LM2500TTSY II
The turning center LM2500TTSY II Twin Spindle & Turret Multitasking CNC Turning Center is a productive multifunctional lathe that has high rigidity and precision in CNC cutting.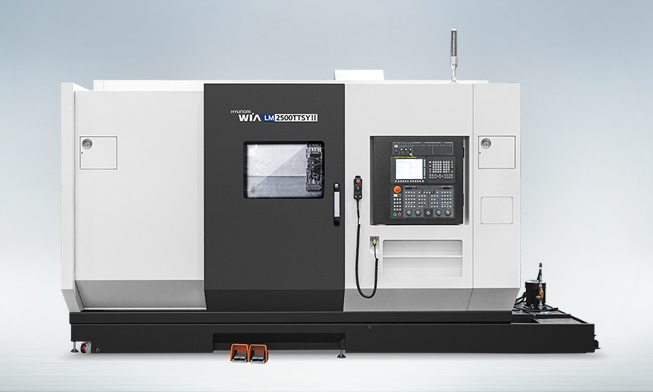 Twin spindle and twin turret for multiflexibility
Improved spindle power for heavy duty cutting (Max.torque : 724N.m)
Improved Mill Turret Machining Capability (Max.torque : 70N.m)
Increased Spindle Rod Machining Diameter
Box guideways on all axes for heavy duty cutting
Wedge Type Y-Axis Structure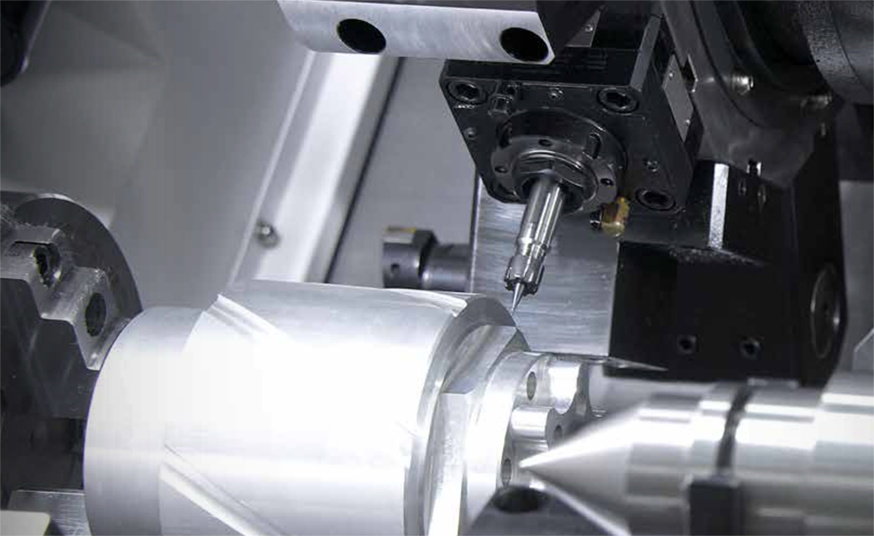 LM2500TTMS/TTSY Turning Center demonstrates Hyundai-WIA's technological capability by machining any type of complex parts with two universals, two turrets and the Y axis.
Multitasking Structure
Rear Machining
Upon completion of the external operation, the left spindle rotates at the same rate as the right spindle and the workpiece is handed over to the left spindle. Once the workpiece is secured in the left spindle rear processing is possible.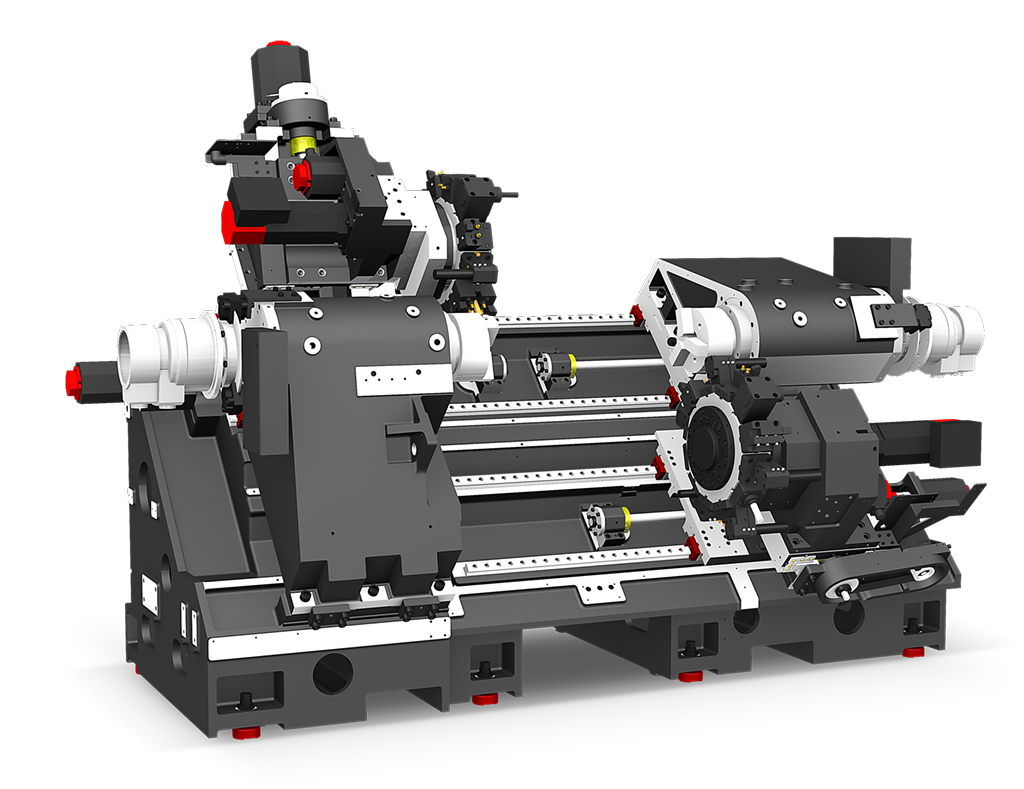 First and second operations can be performed with a single setup.
Two different operations are possible to machine simultaneously on two spindles.
Multitasking (Turning, Milling Y-Axis Machining)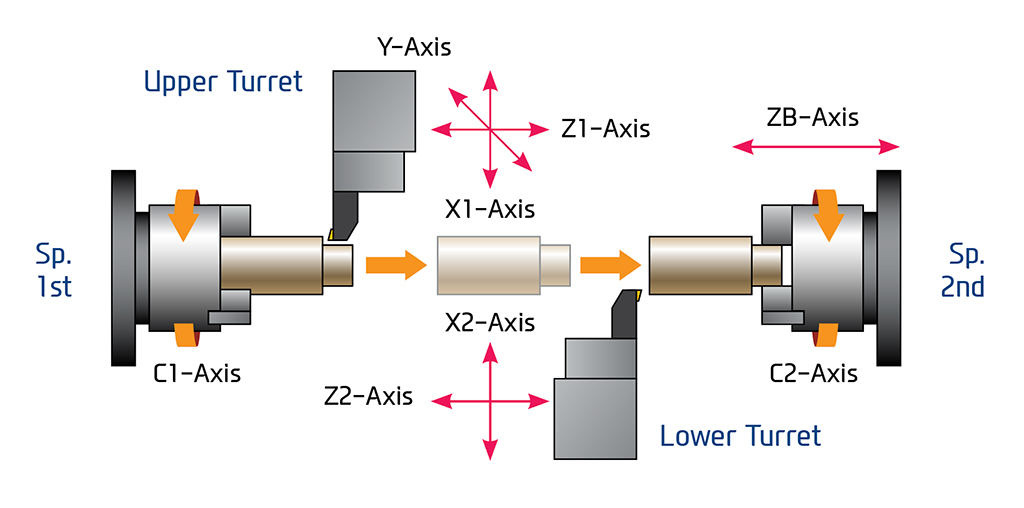 All Axis Box Guideway
Box Guideway
All axes on the LM2500TTSY II is designed with Box Guideways to provide rigidity and accuracy even during heavy duty operations.

High Performance Ball Screw
World-class ball screws were applied in LM2500TTSY II for accurate positioning, minimization of thermal displacement, and reinforced durability. The ball screw deformity was especially minimized by applying high- precision pre-load to the bearings placed in multiple rows at both ends of the ball screws.
Right & Left Built-in Spindle
Built-in Spindle
The right and left spindles with a built-in motor structure can minimize the vibration and heat generated during high-speed rotation, which makes them ideal for high-precision machining. Also, the spindle chiller, installed to minimize thermal displacement of the right and left spindles, ensures the quality of products despite long machining process.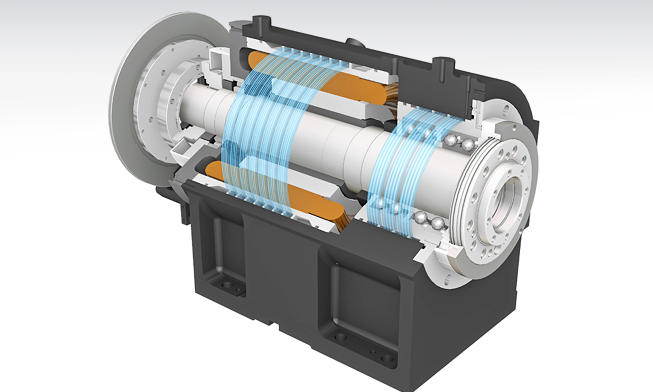 Improved Spindle Power for Heavy Duty Cutting Machining
The heavy duty machining capability has been improved significantly with the maximum output increased by 15% and the maximum torque increased by 67% compared to the previous model.

Increased Spindle Rod Machining Diameter
The rod machining diameter has been increased from Ø76 to Ø81 to expand the rod machining area.

Y-Axis Function
12 tools(std.) / 24 tools(opt.) → Various types of machining available

Wedge Type Y-Axis Structure
The wedge type Y-axis structure offers superior rigidity and it can maintain stable machining precision even for heavy duty machining. The Y-axis structure especially allows machining at a location away from the center, which allows almost all machining to be performed by a single machine, without secondary machining using a
separate machining center.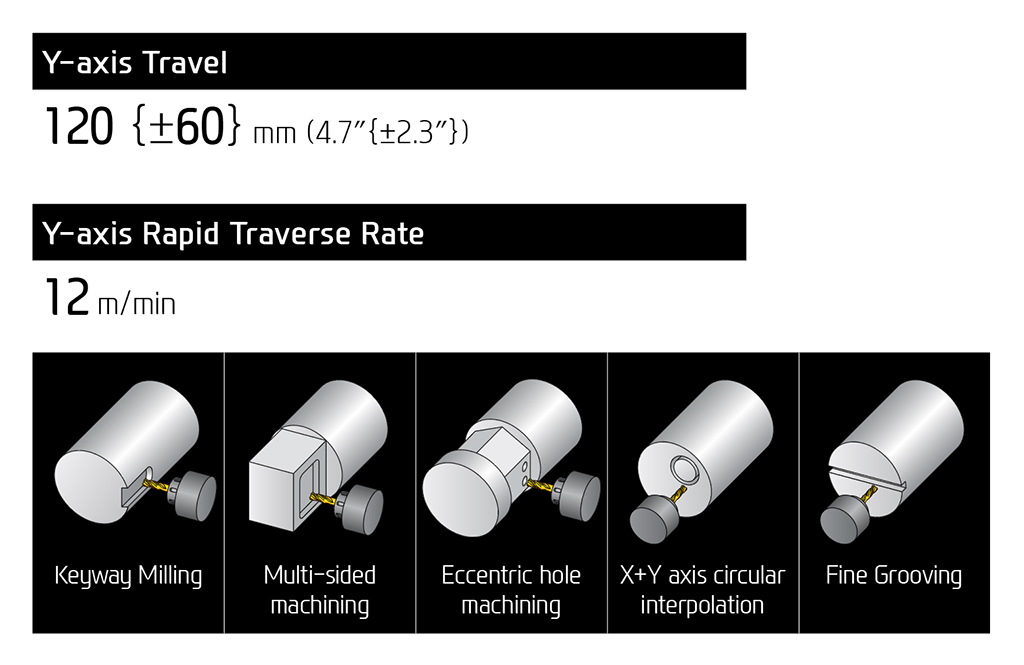 Upper/Lower Twin Turrets
Twin Mill Turrets
The upper and the lower turrets are equipped with powerful servo motors, which guarantee high productivity and precision. In particular, a total of 48 tools can be installed on both turrets, and high speed precision machining of complex products is possible with a single setup.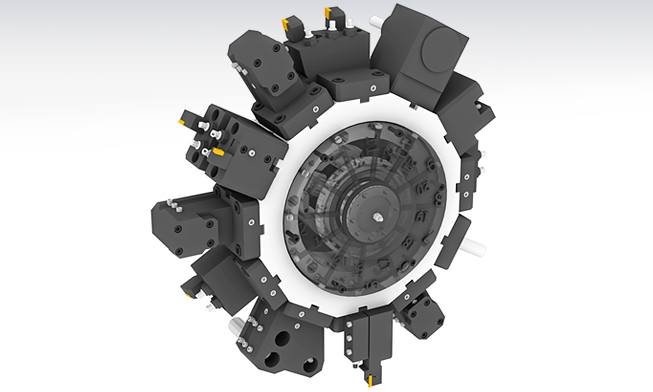 Improved Mill Turret Machining Capability
The continuous output, maximum rpm, and torque were improved significantly compared to the previous model.

LM2500TTSY II High Precision System
Automatic Q-Setter
Cutting tools are calibrated quickly and accurately with the addition of a q-setter. Each tool tip is touched off manually using a sensor that inputs the position automatically.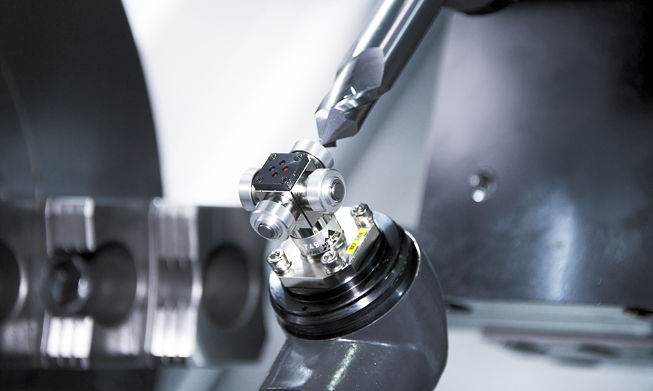 Linear Scale
Linear scales increase positioning accuracy and reduce distortion caused by thermal growth, thus ensuring a more accurate finished part.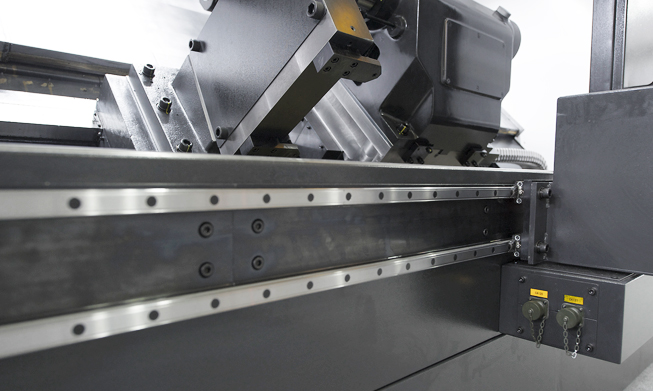 Touch Sensor
Workpiece coordinate values can be set automatically using the optional spindle probe.
Technical Specifications LM2500TTSY II
Max Turning Dia [mm]
390
Max Turning Length [mm]
900
Driving Method
Built in
Chuck Size [inch/mm]
Main 10″/254
Sub 10″/254
Spindle RPM [rot/min]
4,000
Spindle Output [kW]
30/22
Spindle Torque [Nm]
724/410
Travel (X1/X2/Z1/Z2/ZB) [mm]
–
Travel (X1/X2/Z1/Z2/ZB/Y) [mm]
270/195/920/920/920/120
Rapid Travel (X1/X2/Z1/Z2/ZB) [m/min]
–
Rapid Travel (X1/X2/Z1/Z2/ZB/Y) [m/min]
24/24/24/24/24/12
Slide Type
BOX
No. of Tools
2 x 12
Tool Size (turning/milling) [mm]
25/50
Milling Tool Speed [rot/min]
5,000
Similar Products
Resources / External Links