HD2200Y | HD2600Y | HD3100YA | HD3100Y
The Hyundai-Wia HD-Y Turning Center is a high-quality Y-axis CNC turning center from one of the world's leading machine tool manufacturers.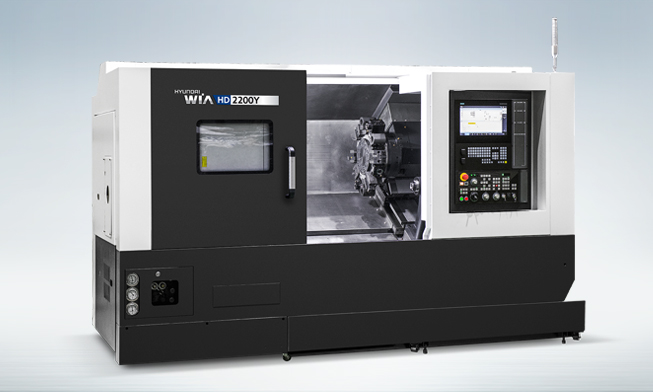 Box guideways for enhancement of cutting capability
One-piece and 30° degree slanted bed assures high-rigidity in structure
Minimized thermal displacement through stabilized machine component
Complex machining is possible with BMT55P turret transferred by wedge type Y-axis
All-in-one Bed type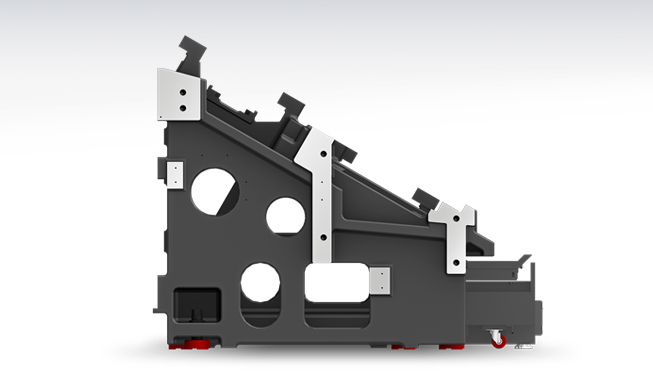 Optimal Structural Analysis
Structural analysis was applied to the design of the machine to increase the tool post body and reduce the machine's height so as to maintain the bed's dynamic rigidity even during heavy-duty cutting. In addition, the HD-SY Series bed slope is pitched at 30 degrees to ensure more stable machining.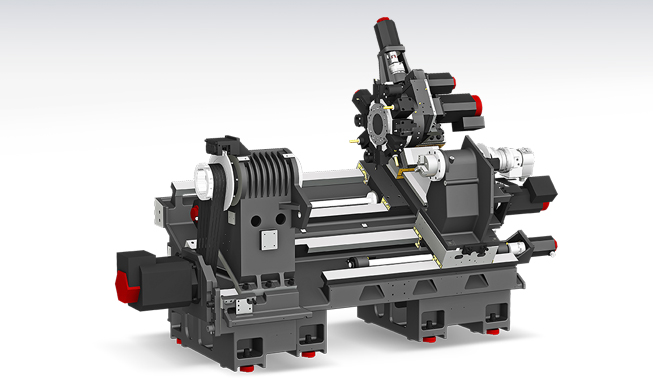 Integrated Coolant Tank
The structure is designed with the coolant tank installed at the bed front for improved convenience. Chips can be removed from the right side of the machine.
Guideway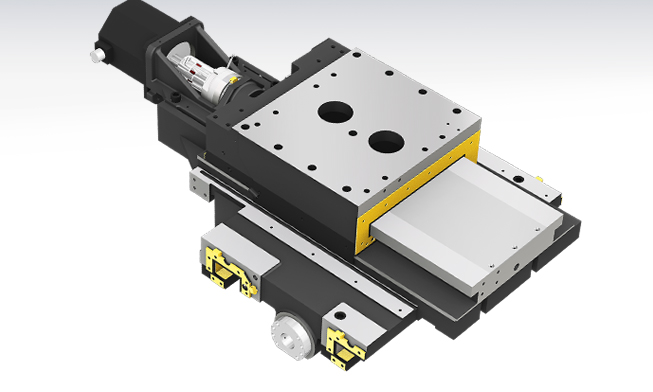 Box Guideway
All axes of HD-SY Series are designed with Box Guideways for better travel ability. Box Guideways show great performance in offsetting vibrations caused by heavy duty cutting.
Sealed GIB Structure
X-axis of HD2200 is designed to minimize the damage of turcite from chips by applying the sealed GIB structure.
Y-axis Functions

Wedge Type Y-Axis Structure
The HD-SY Series is designed with a wedge type Y-axis that is transferred by the simultaneous operation of the Ys-axis and the X-axis. In addtion, excellent rigidity makes it possible to perform superb quality when machining a heavy-duty cutting.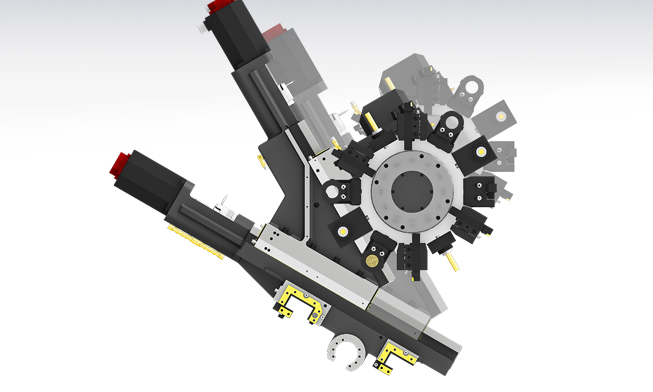 Main Spindle
Spindle for Heavy Cutting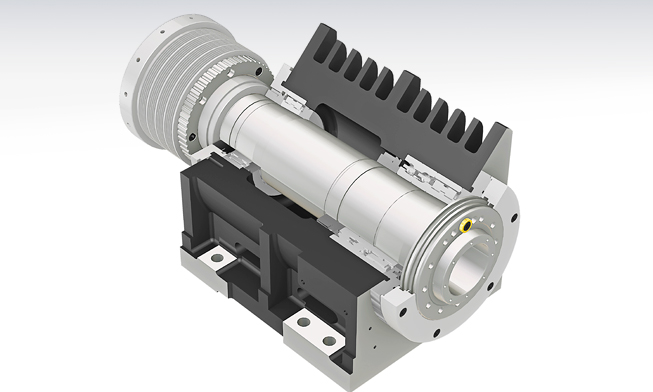 The main spindle is designed with the same structure as that often found in larger sized machines. The combination of double cylindrical roller bearings and angular contact ball bearings leads to excellent heavy duty cutting performance. Also, machining performance is enhanced by applying ribstar belt to minimize noise and belt slipping problems. The spindle is designed with a labyrinth structure to minimize possible bearing damage from coolant and to improve machining stability.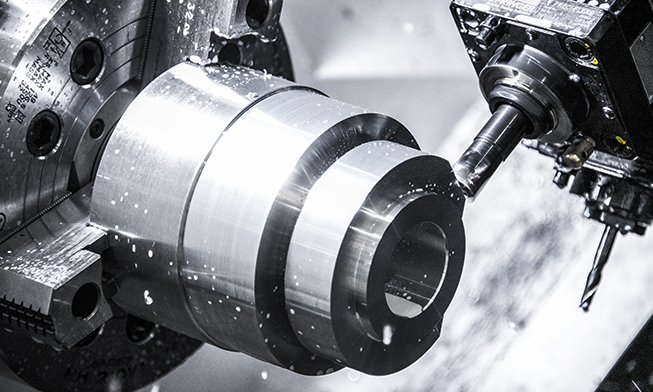 C-Axis Control
C-axis of HD-SY Series can be controlled to 0.001° which makes it possible to process various shapes.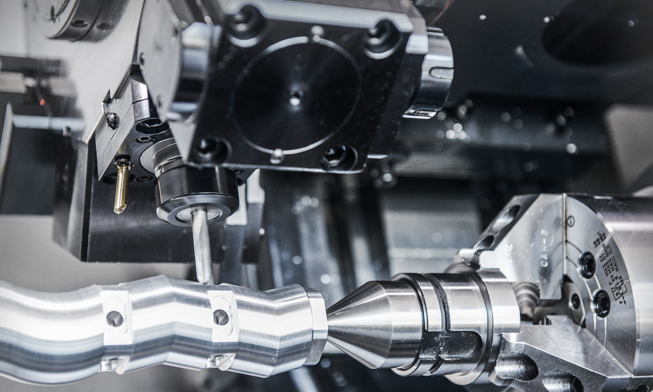 Sub Spindle ('SY' Type)
The Belt-type sub spindle is designed to minimize thermal displacement during the continuous machining, offering from the heavy-duty cutting to the high-speed machining.
Tail stock
The HD-Y series is fitted with tailstocks as a standard for excellent machining quality. In addition, the travel distance of quill can be as long as 120mm(4.7″), thus expanding the support area.
Turret
Mill Turret
The BMT turret secures the tool with four bolts and key on the tool mounting surface of the turret, making it possible to powerfully fix the tool, ensuring high reliability in rigidity and precision.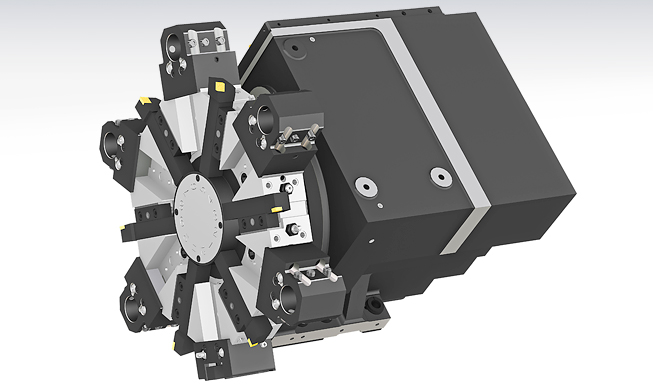 Mill Tool Holder
Machining capability has increased with the addition of straight milling head tool holder, which can machine workpieces from the side, and angular milling head tool holder, which can perform I.D. operations.
Special Tool
With the Y-axis, the L-Y series can process high value-added products using a variety of rotating tools. In particular, there is a multi-holder for attaching a variety of tools to one holder, and an eccentric rotary tool for handling eccentric parts without additional axis travel, which can realize integration of process with one machine.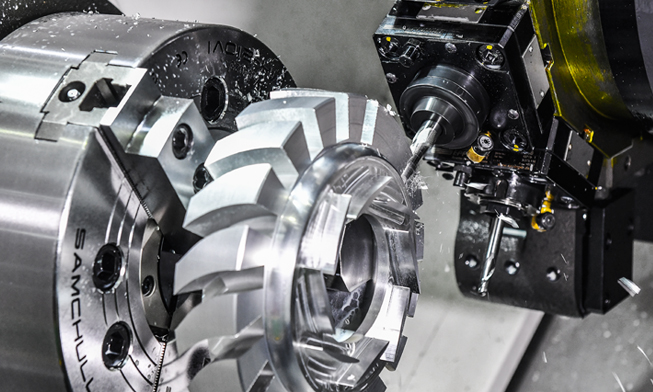 HD2200Y turning center with high precision in machining
Automatic Q-Setter
Cutting tools are calibrated quickly and accurately with the addition of a q-setter. Each tool tip is touched off manually using a sensor that inputs the position automatically.
Linear Scale
Linear scales increase positioning accuracy and reduce distortion caused by thermal growth, thus ensuring a more accurate finished part.
Work Probe
Workpiece coordinate values can be set automatically using the optional spindle probe.
Technical SpecificationsHD2200Y
| | |
| --- | --- |
| Max Turning Dia [mm] | 300 |
| Max Turning Length [mm] | 610 |
| Driving Method | Belt |
| Chuck Size [inch/mm] | 8″/203,2 |
| Spindle RPM [rot/min] | 4,000 |
| Spindle Output [kW] | 18.5/15 |
| Spindle Torque [Nm] | 206.2/125.4 |
| Travel (X,Y,Z) [mm] | 215/110/680 |
| Rapid Travel (X,Y,Z) [m/min] | 24/10/30 |
| Slide Type | BOX |
| No. of Tools | 12 |
| Tool Size (turning/milling) [mm] | 25/40 |
| Milling Tool Speed [rot/min] | 6,000 |
Technical Specifications HD2600Y
| | |
| --- | --- |
| Max Turning Dia [mm] | 300 |
| Max Turning Length [mm] | 610 |
| Driving Method | Belt |
| Chuck Size [inch/mm] | 10″/254 |
| Spindle RPM [rot/min] | 3,500 |
| Spindle Output [kW] | 18.5/15 |
| Spindle Torque [Nm] | 400.7/243.7 |
| Travel (X,Y,Z) [mm] | 215/110/680 |
| Rapid Travel (X,Y,Z) [m/min] | 24/10/30 |
| Slide Type | BOX |
| No. of Tools | 12 |
| Tool Size (turning/milling) [mm] | 25/40 |
| Milling Tool Speed [rot/min] | 6,000 |
Technical Specifications HD3100YA
| | |
| --- | --- |
| Max Turning Dia [mm] | 420 |
| Max Turning Length [mm] | 760 |
| Driving Method | Belt |
| Chuck Size [inch/mm] | 10″/254 |
| Spindle RPM [rot/min] | 3,500 |
| Spindle Output [kW] | 26/18.5 |
| Spindle Torque [Nm] | 734/522 |
| Travel (X,Y,Z) [mm] | 265/120/830 |
| Rapid Travel (X,Y,Z) [m/min] | 24/10/30 |
| Slide Type | BOX |
| No. of Tools | 12 |
| Tool Size (turning/milling) [mm] | 25/50 |
| Milling Tool Speed [rot/min] | 5,000 |
Technical Specifications HD3100Y
| | |
| --- | --- |
| Max Turning Dia [mm] | 420 |
| Max Turning Length [mm] | 760 |
| Driving Method | Belt |
| Chuck Size [inch/mm] | 10″/254 |
| Spindle RPM [rot/min] | 2,800 |
| Spindle Output [kW] | 26/18.5 |
| Spindle Torque [Nm] | 1051/672 |
| Travel (X,Y,Z) [mm] | 265/120/830 |
| Rapid Travel (X,Y,Z) [m/min] | 24/10/30 |
| Slide Type | BOX |
| No. of Tools | 12 |
| Tool Size (turning/milling) [mm] | 25/50 |
| Milling Tool Speed [rot/min] | 5,000 |
Similar Products
Resources / External Links