KL7000LY | KL8000LY
The KL-LY, Y-axis CNC turning centers designed with HYUNDAI WIA's engineering expertise to maximize productivity by enhancing rigidity and accuracy of machining.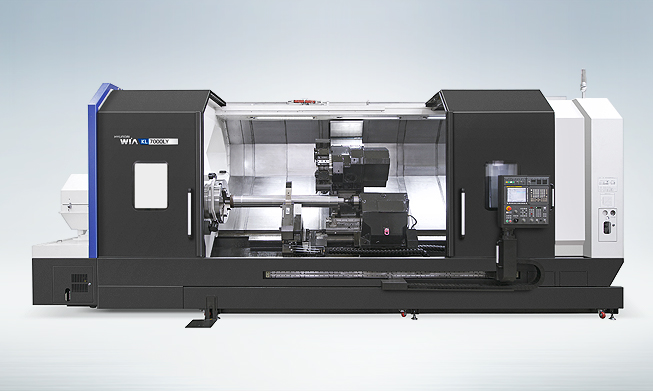 Multi-tasking operation with wedge type Y-axis BMT85P turret
Flat bed with rigidity increased by 25% compared to slant type bed
3 Step gear box type main spindle (KL8000LY : 2 step)
Main spindle thermal displacement minimized
Rigidity secured through box guideways on all axis
Structure designed for machining long shafts and pipes with maximum turning length of 3,250mm (128″)
Heavy Duty, Large Capacity, Y-axis CNC Turning Center
KL-LY Y-axis CNC turning centers features the largest machining area in its class, increasing the size of parts that can be machined.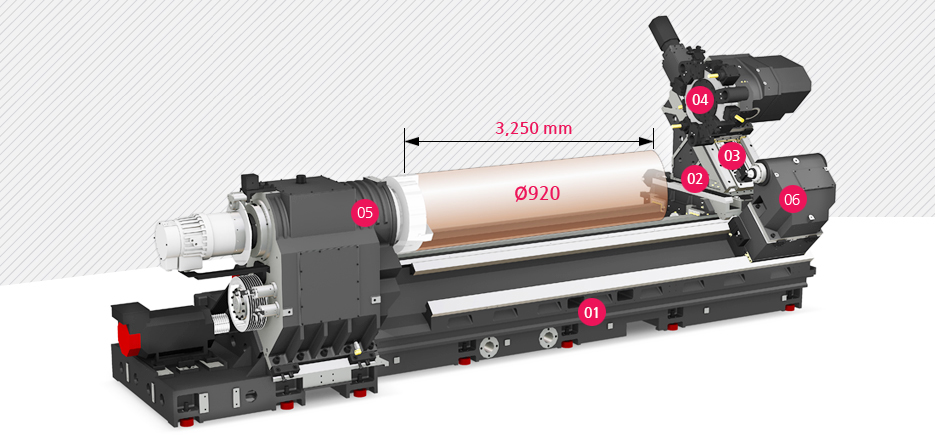 High Rigidity Flat Bed Structure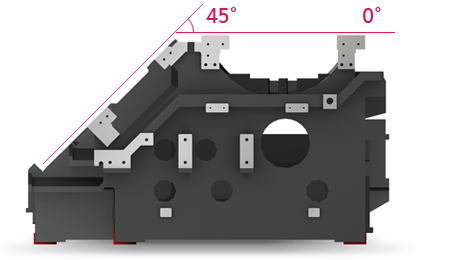 KL7000/8000LY is designed with a unique structure analysis only offered by Hyundai Wia in the flat bed structure unlike the existing slant bed, resulting in improvements in strong and heavy-duty cutting capability.
Guideway
Box Guideway
TheKL-LY Y-axis CNC turning centers, specialized in machining large products, features box guideways in all axes and gear driven main spindle. The series demonstrates unsurpassed performance in heavy duty cutting.
Ball Screw
Travel is stabilized by fixing both ends of the ball screw with double
anchored method. In particular, a large diameter ball screw with proper preload reinforces sturdiness and resistance to thermal displacement.
Main Spindle
Spindle Ideal for Heavy Cutting
To accomplish stability even during the heavy-duty cutting, the spindle is designed with a combination of P4 level double cylindrical roller bearings and angular bearings. The spindle is equipped with a high torque gear box showing the strength in the heavy-duty cutting. in addition, heat dissipation ribs and fan are attached to the front/rear side making heat discharge faster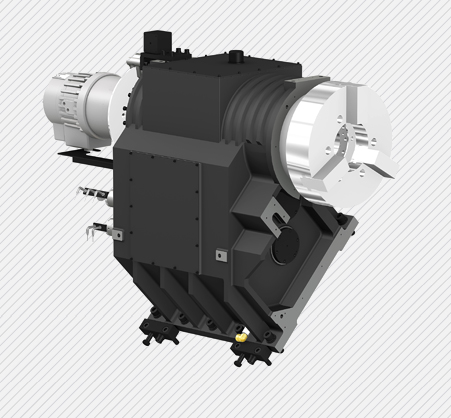 Spindle Gear Box
Gear shift of spindle provide stability and high torque during low speed.
C-Axis Control
The C-axis is capable of 0.001° control when milling turret is applied. Machining capability is strengthened with turning and milling operations.
Big Bore Spindle (KL8000LY)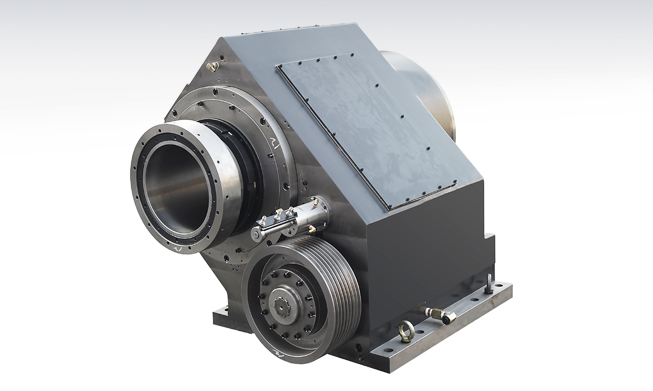 Max. Spindle Bore Ø320 (Ø12.6″) show excellent performance in machining large cylindrical parts for oil and gas industry.
Air Chucking System
A dual chuck design – one on each end of the spindle – offers superior
support of the workpiece such as long shafts or pipe.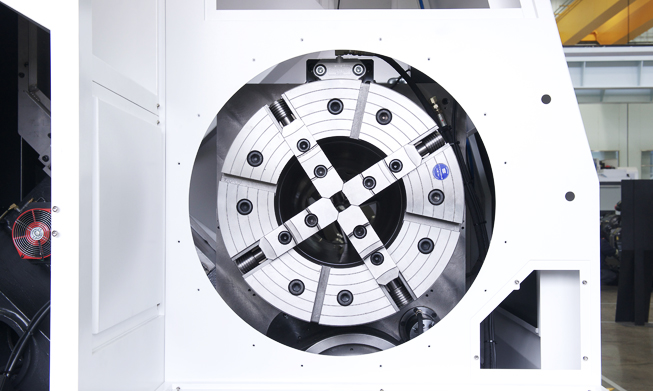 Turret
BMT85 Turret
The large 12-station BMT turret enables the KL7000/8000LY
to perform high accuracy milling operations in a single setup. The BMT turret is driven by a high torque servo motor with a 0.3 second indexing time in either direction.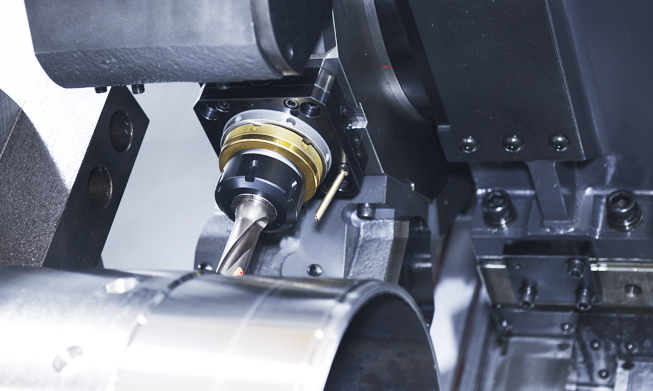 Mill Tool Holder
Machining capabilities have been increased with the addition of a straight milling head, which can remove material from the side of the workpiece, and an angular milling head, which can perform i.D. operations.
Y-Axis
Wedge Type Y-axis Structure

The KL7000/8000LY is designed with a wedge type Y-axis that is transferred by the simultaneous operation of the Ys-axis and the X-axis. in addtion, excellent rigidity makes possible to perform superb quality when machining a heavyduty cutting.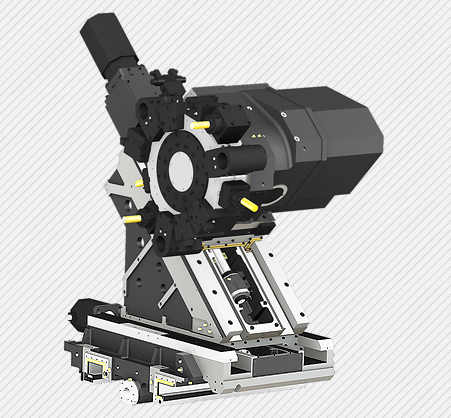 Built-In Tail Stock (Programmable)
The built-in tail stock ensures high accuracy even during heavy duty cutting and can be controlled automatically or manually.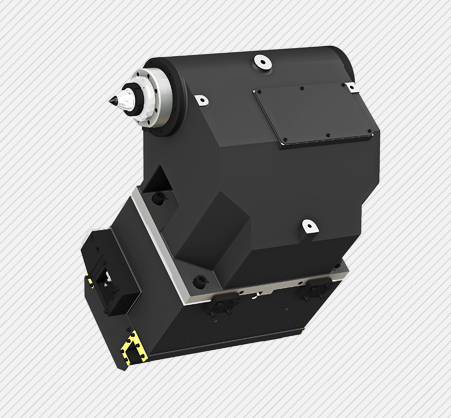 Steady Rest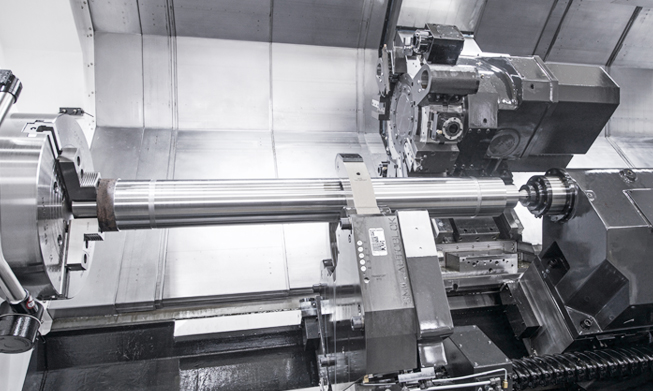 For long parts, such as shafts, the optional steady rest increases rigidity and minimizes vibration. When using the programmable hydraulic work rest provided as an option, the position of the work rest can be adjusted according to the shape of the product using the alignment pin connected to the turret. This enhances the efficiency of the machining operation.
Optional Functions
Automatic Q-Setter
Cutting tools are calibrated quickly and accurately with the addition of a q-setter. Each tool tip is touched off manually using a sensor that inputs the position automatically. (KL8000LY: Manual Q-Setter)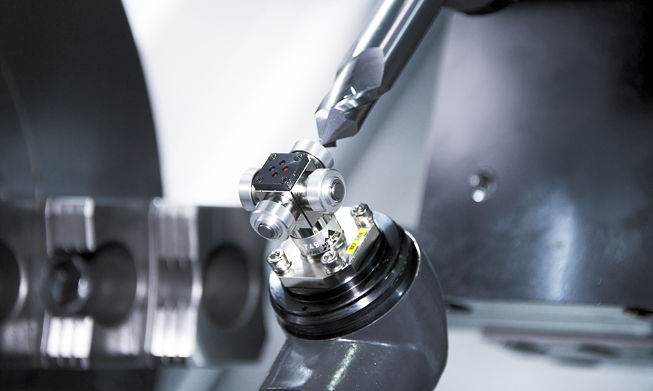 Linear Scale
Linear scales increase positioning accuracy and reduce distortion caused by thermal growth, thus ensuring a more accurate finished part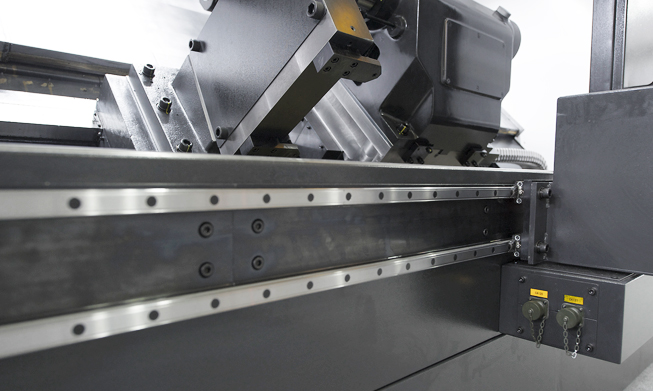 Rear Chuck
The rear chuck option enables long products such as long shaft or pipes to be processed in a stable condition. (KL8000LY)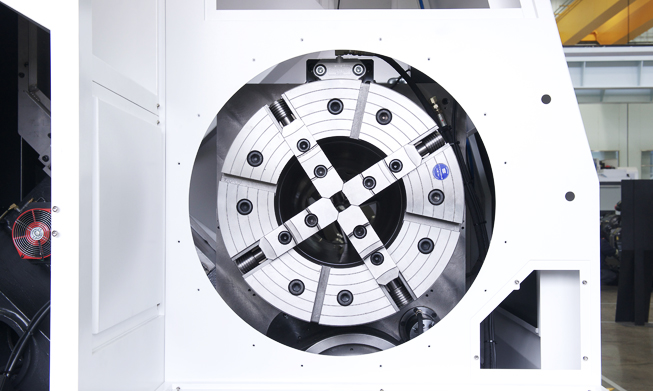 Video machining KL8000LY
Technical Specifications KL7000LY
| | |
| --- | --- |
| Max Turning Dia [mm] | 920 |
| Max Turning Length [mm] | 3,250 |
| Driving Method | Gear |
| Chuck Size [inch/mm] | 24″/609,6 |
| Spindle RPM [rot/min] | 1,500 |
| Spindle Output [kW] | 45/37 |
| Spindle Torque [Nm] | 6,928/5,700 |
| Travel (X,Y,Z) [mm] | 500/220/3,280 |
| Rapid Travel (X,Y,Z) [m/min] | 12/10/12 |
| Slide Type | BOX |
| No. of Tools | 12 |
| Tool Size (turning/milling) [mm] | 32/80 |
| Milling Tool Speed [rot/min] | 3,000 |
Technical Specifications KL8000LY
| | |
| --- | --- |
| Max Turning Dia [mm] | 920 |
| Max Turning Length [mm] | 3,250 |
| Driving Method | Gear |
| Chuck Size [inch/mm] | 32″/812,8 |
| Spindle RPM [rot/min] | 700 |
| Spindle Output [kW] | 45/37 |
| Spindle Torque [Nm] | 6,928/5,700 |
| Travel (X,Y,Z) [mm] | 500/220/3,280 |
| Rapid Travel (X,Y,Z) [m/min] | 12/10/12 |
| Slide Type | BOX |
| No. of Tools | 12 |
| Tool Size (turning/milling) [mm] | 32/80 |
| Milling Tool Speed [rot/min] | 3,000 |
Similar Products
Resources / External Links