KM2600MTTS
The KM2600MTTS 9-axis turning center is a CNC multitasking machine with endurance and excellent performance.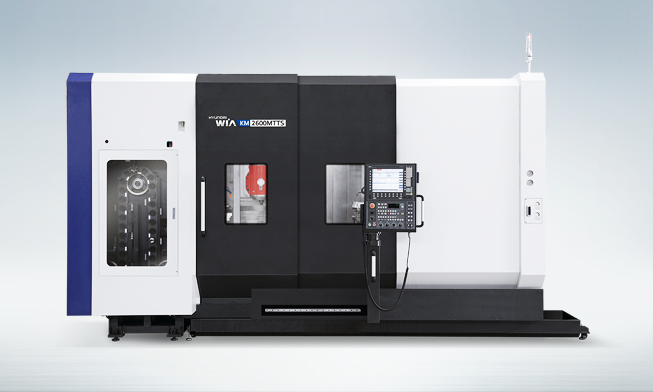 Process-intensive 9-axis Multi-tasking Machine with KM2600MTTS 01the Mill Head, 2 Spindle & Lower Turret
The adoption of a milling head with a built-in B axis (0.0001control) enables the operator to perform turning and milling works in perfect harmony.
The highly rigid Y-axis structure makes it possible to process diverse shapes.
Application of CAPTO C6 tool for high speed complex machining
The model features built-in main & sub-spindles with high output and high torque.
Bed structure
High Precision, High Rigidity Bed Structure
Z-axis in a 3-way structure is applied to remove any interference in
conveyance between the tool station and 2nd spindle. Design in 45° slant ensures that cutting chips and cutting oil are discharged smoothly and both high strength and high precision can be maintained. Especially, the bed is analyzed in the FEM method to minimize factors that can be generated in the machining, such as thermal deformation, vibration, etc.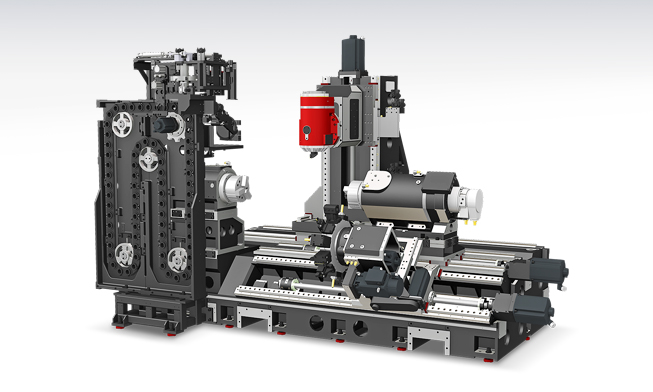 Built-In 10″ Main & Sub Spindle
The built-in 4,000rpm-class spindle minimizes vibration to allow machining of the highest precision.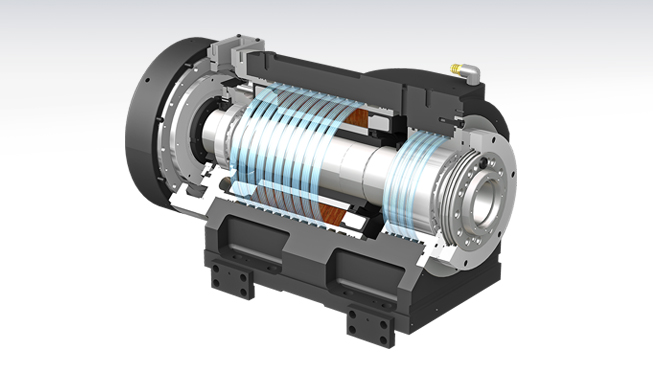 Mill Head
The mill head of KM2600MTTS, where the b-axis control can be done, is mounted with a high-resolution encoder having a DDM (Direct Drive Motor) and 0.0001° to secure high positioning precision. This shows the highest machining perfomance among the same class.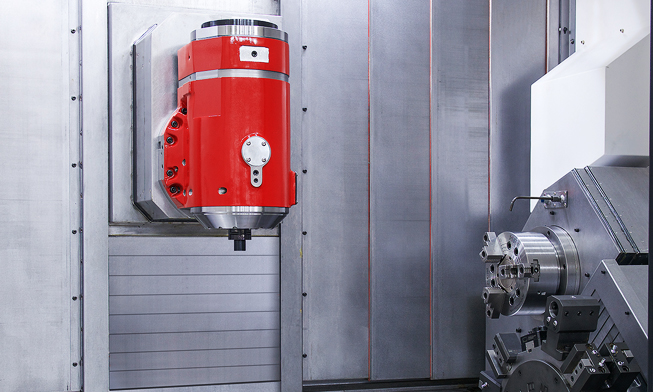 Spindle Oil Cooling
The main/sub spindles have been fitted with cooling units as a standard feature to minimize thermal displacement generated during cutting works, maintain a constant temperature, and increase cutting stability.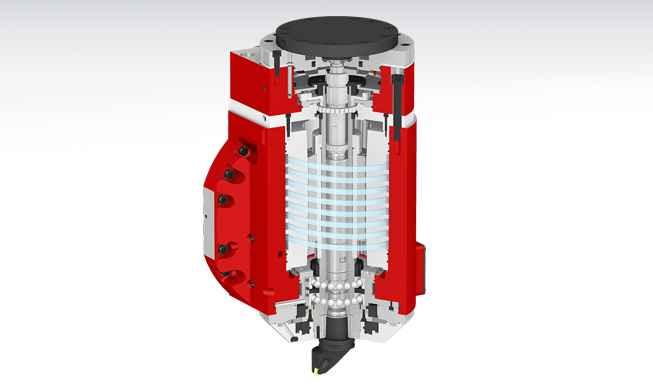 BMT Lower Turret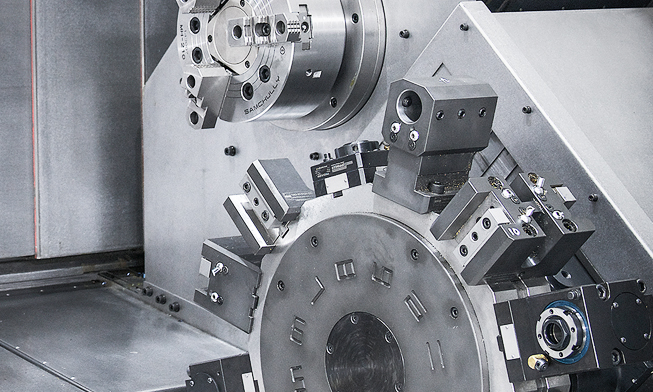 The lower turret ensures the high-speed machining of complicated shapes in precision only with the one-time setting of an object to be machined with the mill head and complex machining.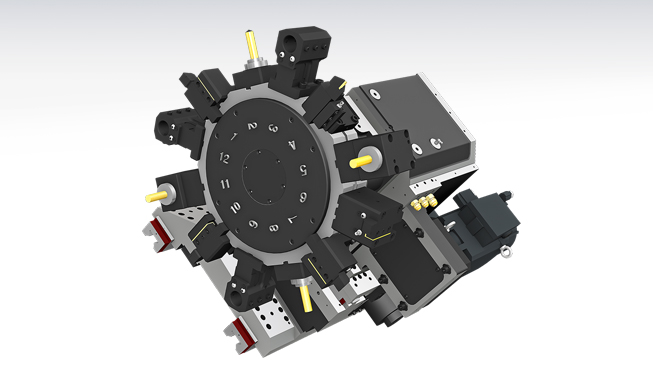 ATC & Magazine
The installation of magazine on the front provides the efficient tool exchange and tool setting. Magazine with chain driving method provides 36 tools as a standard, and 72 tools as an option.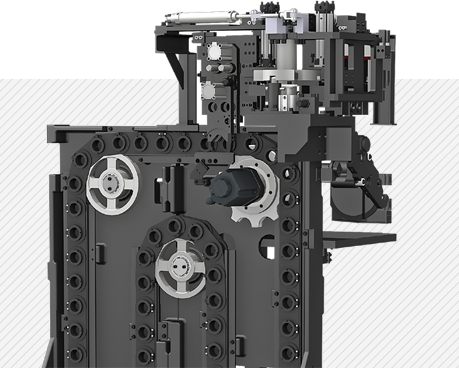 High-Speed Roller LM Guideway
Linear roller guideways are applied to reduce non-cutting time and bring high rigidity.
Forced Cooling System for Ball Screw
The KM2600MTTS's Ball Screw features a forced cooling system that uses Oil Con. The system is ideal for high-precision machining due to its ability to considerably reduce the feed shaft's thermal displacement generated by repetitive movements. In addition, the ball screw's diameter has been increased to endure the load imposed during heavy-duty cutting.
High-Precision Linear Scale
KM2600MTTS is equipped with linear scales on all axes providing high precision positioning accuracy and compensates for ball screw thermal displacement ensuring extremely precise machining.
In addition, the absolute type linear scale is installed in close proximity to the ball screw of each axis. During operation an added benefit is not being require to home the machine
Cross Type Y-axis
The cross type Y-axis ensures the excellent positioning precision with the simple preparation and correction of program, which will give you a great help in increasing productivity.
Wide Machining Range of Y-axis
The adoption of a Y-axis with a wide cutting range of 250mm(9.8″) allows Y-axis cutting in a single step without having to rotate the C-axis, and improves the cutting pitch and precision level.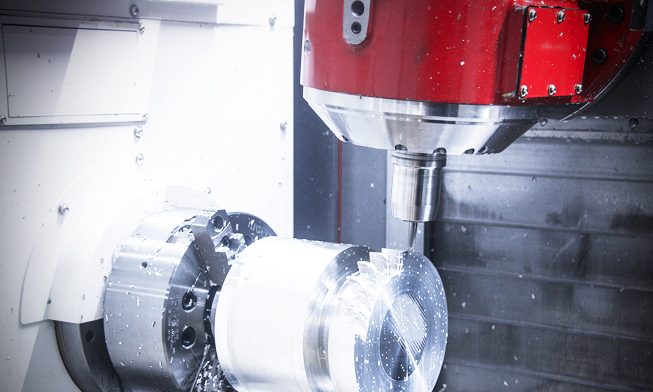 Video machining KM2600MTTS
Technical Specifications KM2600MTTS
Max Turning Dia [mm]
750
Max Turning Length [mm]
1,550
Driving Method
Built in
Chuck Size [inch/mm]
10″/254
10″/254
Spindle RPM [rot/min]
4,000
Spindle Output [kW]
30
Spindle Torque [Nm]
800/585
Travel (X,Y,Z) [mm]
705/1,595/250/250/1,500/1,586
Rapid Travel (X,Y,Z) [m/min]
40/40/40/30/20/15
Slide Type
LM
No. of Tools
2 x 12
Tool Size (turning/milling) [mm]
32/80
Milling Tool Speed [rot/min]
5,000
Similar Products
Resources / External Links