L300A | L300MA | L300MSA
L300A CNC turning centers series, designed by Hyundai WIA with years of expertise and the latest technology, is a Turning Center that maximizes productivity and performance.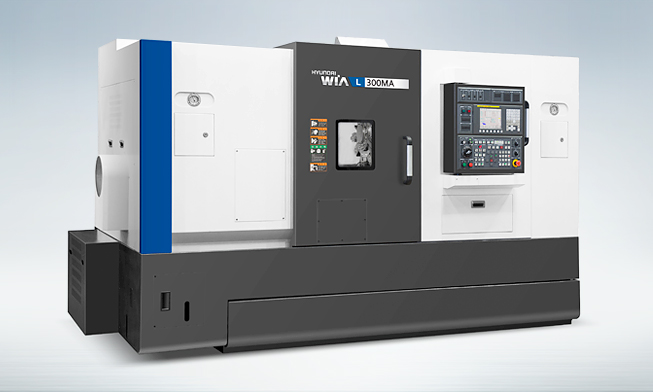 Box guideways on all axis ensuring high rigidity in heavy cutting conditions
Highly Accurate direct drive spindle design and highly sturdy all-in-one structure
Pretensioned double-anchored ballscrew for superior positioning and repeatability accuracy
Minimized spindle thermal distortion
Gearless type main spindle models are all equipped with a mill turret.
Integrated process realized through use of optional 8″ sub spindle
Fast and efficient machine to maximize productivity.
Superior structure of the machine to produce various products.
Angular contact ball bearings to maintain high rigidity and low thermal distortion.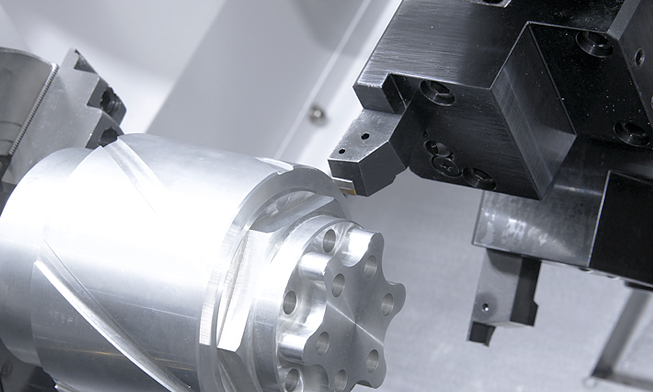 One-Piece Bed Structure
High Precision & Rigidity, One-Piece Structure
The L300A features a 45° slant bed design which is developed through finite element analysis (FEA) to absorb vibration and minimize thermal growth. This ensures a stabilized platform for powerful, precise cutting capabilities.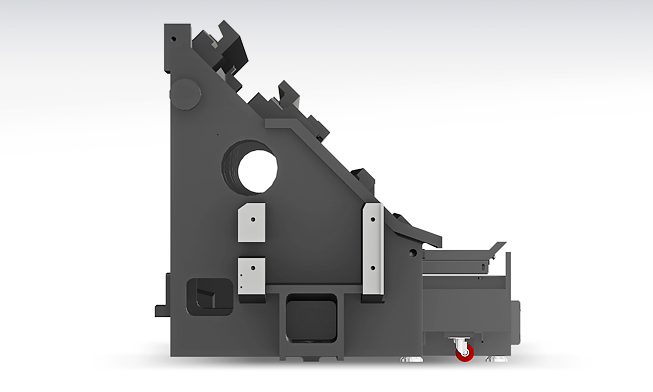 Integrated Coolant Tank
The coolant tank is changed from separate structure to one-piece structure to prevent overflow and clogging.
It is possible to remove chips from right side of the machine which enhances chip removal capability
Guideway
High-Speed Roller LM Guideway
All axes of L300A Series are designed with Box Guideways for better travel ability. Box Guideways show great performance in offsetting vibrations caused by heavy duty cutting
Ball Screw
Large diameter ball screws with preloading prevent deformation due to heat. Also double-anchor suppport method improves rigidity
Main Spindle
Spindle for Specialized in High-speed and Rough Cutting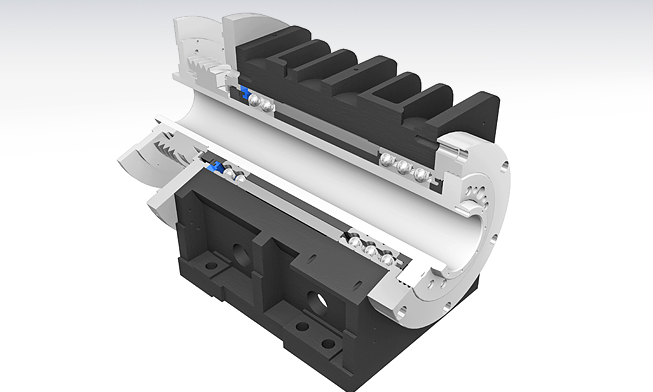 The main spindle has a wide range of constant power and utilizes the same structure as high speed turning centers. It is designed to minimize thermal displacement and to maintain stable cutting. Capability during high speed machining. In particular, the enhanced processing and assembling accuracy of bearings enables the spindle unit to maintain high precision for a long time.
C-Axis Control ('M' Type)
The C axis is capable of 0.001° control when milling turret is applied. Machining capability is strengthened with turning and milling operations.
Gear Type Spindle
A two-step driving method is applied inside the main spindle as
standard to non mill turret models.(L300A/C/LA/LC) It provides
powerful torque at low speeds and stable rotation at high speeds.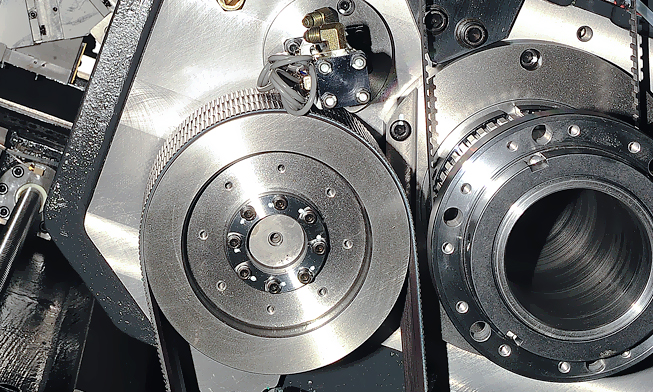 Gearless Type Spindle
Mill turret(BMT turret) equipped models are driven by the gearless method thereby reducing noise and providing outstanding surface finish.
8˝ Sub Spindle ('S' Type)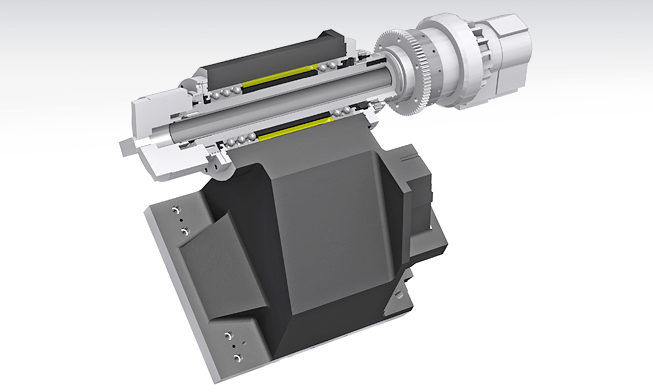 The Belt-type sub spindle is designed to minimize thermal displacement during the continuous machining, offering from the heavy-duty cutting to the high-speed machining. When the main spindle cutting is completed, the sub spindle rotation is synchronized with the main spindle allowing the workpiece to be transferred to the sub spindle, and machining can begin on the back side of the workpiece.
Turret
Servo Turret
The turret of L300ACNC turning centers are applied with high performance AC servo motor, improving machining reliability. 3-piece coupling shows excellent performance in indexing. Powerful hydraulic tool clamping minimizes tool tip deviation caused by load.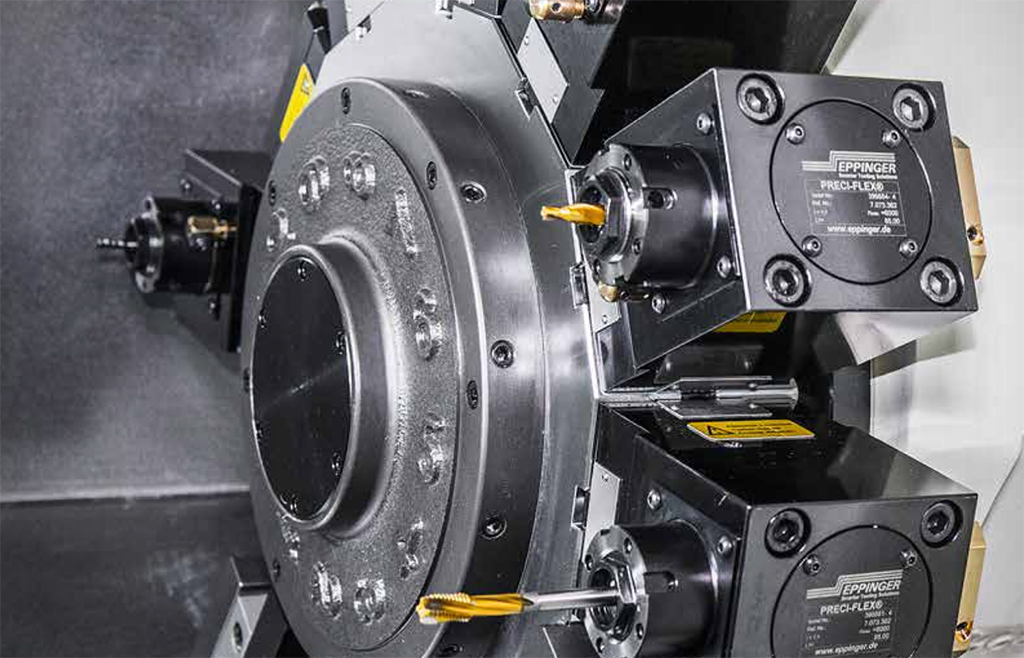 20 Bar(290 psi) High Pressure Coolant
Turret is designed to utilize 20 bar (290 psi) high pressure coolant and it shows optimum performance in machining difficult-to-cut material.
BMT65 Turret
The BMT turret secures the tool with four bolts and key on the tool mounting surface of the turret, making it possible to powerfully fix the tool, ensuring high reliability in rigidity and precision.
Mill Tool Holder
Machining capability has increased with the addition of straight milling head tool holder.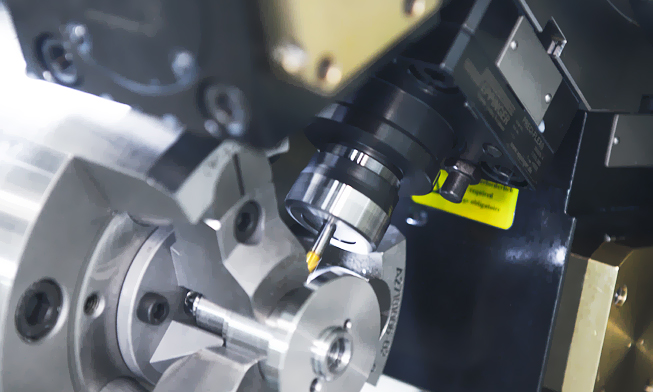 Special Tool
The L300A CNC turning centers series can process high value-added products using a variety of rotating tools. In particular, there is a multi-holder for attaching a variety of tools to one holder, and an eccentric rotary tool for handling eccentric parts without additional axis travel, which can realize integration of process with one machine.
L300 Series high precision CNC turning centers
Automatic Q-Setter
Cutting tools are calibrated quickly and accurately with the addition of a q-setter. Each tool tip is touched off manually using a sensor that inputs the position automatically.
Linear Scale
Linear scales increase positioning accuracy and reduce distortion caused by thermal growth, thus ensuring a more accurate finished part.
Work Probe
Workpiece coordinate values can be set automatically using the optional spindle probe.
Technical Specifications L300A
| | |
| --- | --- |
| Max Turning Dia [mm] | 500 |
| Max Turning Length [mm] | 720 |
| Driving Method | Gear |
| Chuck Size [inch/mm] | 10″/254 |
| Spindle RPM [rot/min] | 3,600 |
| Spindle Output [kW] | 22/18.5 |
| Spindle Torque [Nm] | 739/622 |
| Travel (X,Y) [mm] | 290/750 |
| Rapid Travel [m/min] | 20/24 |
| Slide Type | BOX |
| No. of Tools | 12 |
| Tool Size (turning/milling) [mm] | 25/50 |
| Milling Tool Speed [rot/min] | – |
Technical Specifications L300MA
| | |
| --- | --- |
| Max Turning Dia [mm] | 410 |
| Max Turning Length [mm] | 680 |
| Driving Method | Belt |
| Chuck Size [inch/mm] | 10″/254 |
| Spindle RPM [rot/min] | 3,500 |
| Spindle Output [kW] | 22/18.5 |
| Spindle Torque [Nm] | 493.4/414.9 |
| Travel (X,Y) [mm] | 290/750 |
| Rapid Travel [m/min] | 20/24 |
| Slide Type | BOX |
| No. of Tools | 12 |
| Tool Size (turning/milling) [mm] | 25/50 |
| Milling Tool Speed [rot/min] | 4,000 |
Technical Specifications L300MSA
Max Turning Dia [mm]
410
Max Turning Length [mm]
680
Driving Method
Belt
Chuck Size [inch/mm]
10″/254
8″/203,2
Spindle RPM [rot/min]
3,500
Spindle Output [kW]
22/18.5
Spindle Torque [Nm]
493.4/414.9
Travel (X,Y) [mm]
290/750/700
Rapid Travel [m/min]
20/24/20
Slide Type
BOX
No. of Tools
12
Tool Size (turning/milling) [mm]
25/50
Milling Tool Speed [rot/min]
4,000
Similar Products
Resources / External Links