L400C | L400LC
The CNC Turning Center L400C series, designed by Hyundai WIA with years of expertise and the latest technology, is a Turning Center that maximizes productivity and performance.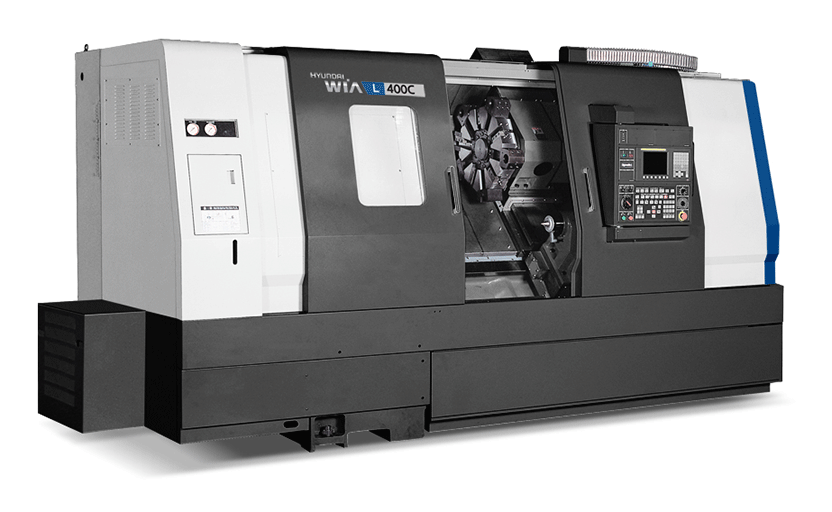 Box guideways on all axis ensuring high rigidity in heavy cutting conditions
All-in-one type structure with direct link for high accuracy and sturdiness
Pretensioned double-anchored ballscrew for superior positioning and repeatability accuracy
Minimized spindle thermal distortion
Two-Step gear box drives the main spindle across the L400 series. (L400MA : Belt)
Big Bore Spindle (L400C Series)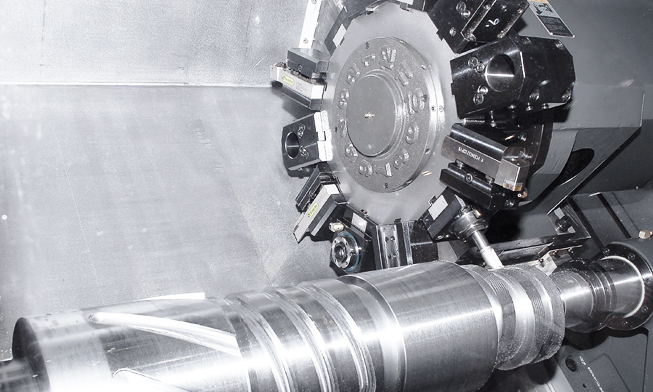 One-Piece Bed Structure
The L400C Series features a 45° slant bed design which is developed
through finite element analysis (FEA) to absorb vibration and
minimize thermal growth. This ensures a stabilized platform for
powerful, precise cutting capabilities.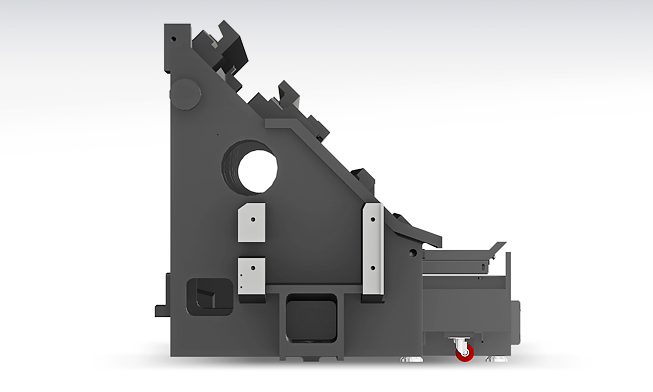 Guideway
Box Guideway
All axes of L400C Series are designed with Box Guideways for better travel ability. Box Guideways show great performance in offsetting vibrations caused by heavy duty cutting.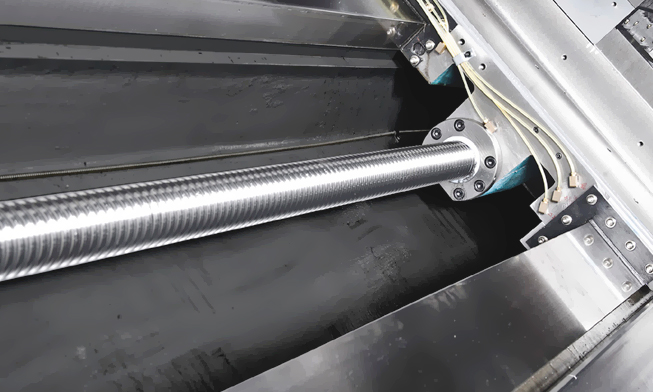 Ball Screw
Large diameter ball screws with preloading prevent deformation due to heat. Also double-anchor suppport method improves rigidity.
Main Spindle
Spindle Ideal for Heavy Cutting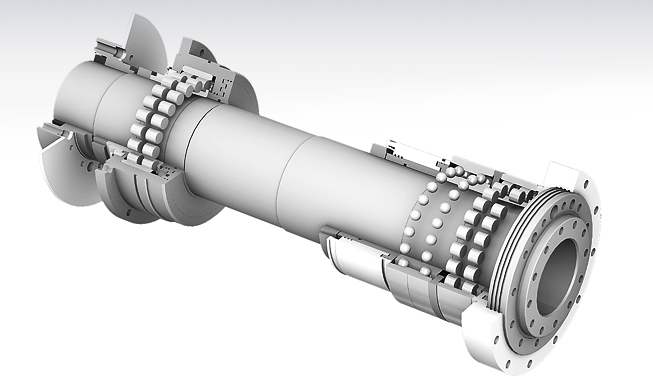 The thermally symmetrical headstock has a special heat insulation board which blocks the heat and maintains high accuracy during long and continuous operations. To accomplish advanced stability even during heavy duty cutting, a combination of P4 double cylindrical roller bearings and angular bearings are adopted.
The double locking device separates the spindle bearing and pulley to prevent a decrease in spindle bearing pretension during interrupted cutting, heavy duty cutting, chuck cylinder operation, and by belt pulley tension.
2-Step Gear Box
A two-step driving method is applied inside the main spindle as standard on non mill turrets. It provides powerful torque at low speeds and stable rotation at high speeds.
Belt-type
Standard feature of L400MC/LMC spindle (gear-driven) is unable to control 0.001˚ due to mechanical characteristic.If the contouring control is needed, please select belt-type (gearless) spindle. (L400MA : Belt-type as a standard)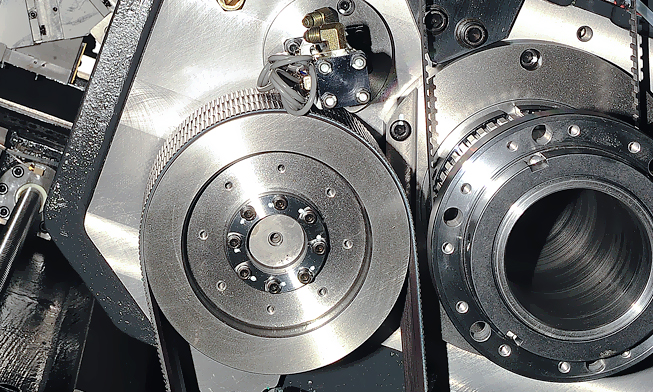 C-Axis Control ('M' Type)
The C axis is capable of 0.001° control when milling turret is applied. Machining capability is strengthened with turning and milling operations.
Big bore spindle (L400C Series)
The big bore spindle of Ø181mm (7.1″) provides excellent performance during pipe machining. Also, spindle torque of 2,705N・m(1,995.1lbf・ft) is optimal for heavy duty cutting.
Turret
Servo Turret
The L400C Series' large 12-station turret provides left or right facing tools in all positions. The Bi-directional rotation turret is attached to a Ø260 (Ø10.2″) diameter curvic coupling and is driven by a high torque motor. 1/8,000 degree repeatability under 11 tons of clamping force enables high precision machining and heavy duty cutting.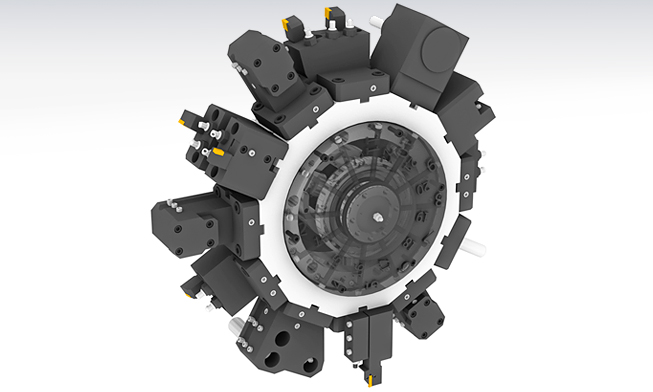 20 Bar(290 psi) High Pressure Coolant
Turret is designed to utilize 20 bar (290 psi) high pressure coolant and it shows optimum performance in machining difficult-to-cut material.
BMT75 Turret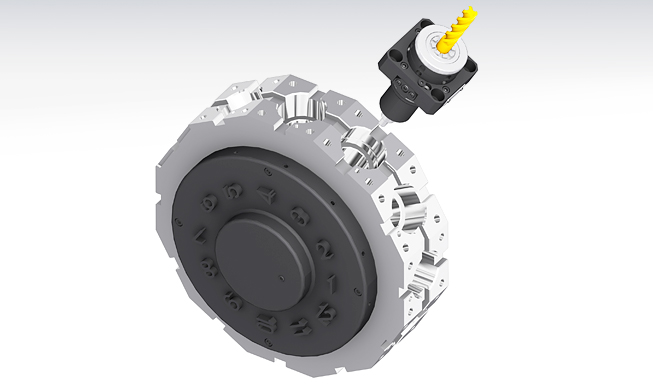 The BMT turret secures the tool with four bolts and key on the tool mounting surface of the turret, making it possible to powerfully fix the tool, ensuring high reliability in rigidity and precision.
Mill Tool Holder
Machining capability has increased with the addition of
straight milling head tool holder.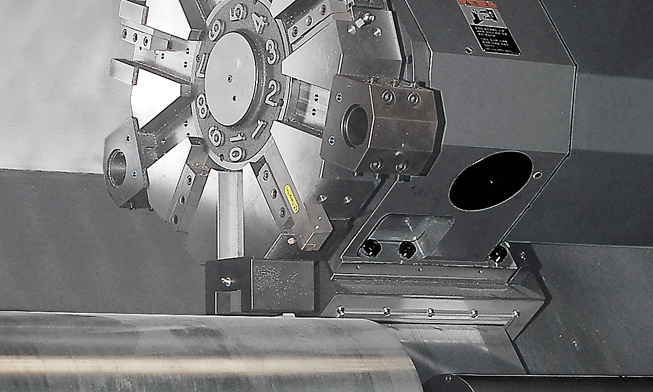 L400C Series high precision CNC turning centers
Automatic Q-Setter
Cutting tools are calibrated quickly and accurately with the addition of a q-setter. Each tool tip is touched off manually using a sensor that inputs the position automatically.
Linear Scale
Linear scales increase positioning accuracy and reduce distortion caused by thermal growth, thus ensuring a more accurate finished part.
Steady Rest
For long parts, such as shafts, the steady rest increases rigidity and minimizes vibration.
Long Boring Tool holder
When using long boring tool holder, deeper inner diameter machining is possible, enabling faster and more precise machining
Built-In Tail Stock
The built-in tail stock ensures high accuracy even during heavy duty cutting and can be controlled automatically or manually.
Specificații Tehnice L400C
| | |
| --- | --- |
| Diametru Max. [mm] | 630 |
| Lungimea Max. [mm] | 1,170 |
| Arbore principal [tip antrenare] | Cutie viteze |
| Diametru universal [inch/mm] | 15″/381 |
| Viteza arbore principal [rot/min] | 2,000 |
| Putere Motor [kW] | 26/22 |
| Cuplu Arbore [Nm] | 1,753/1,483 |
| Curse (X,Y) [mm] | 325/1,205 |
| Curse rapide [m/min] | 20/25 |
| Ghidaje [tip] | Box |
| Numar de scule | 10 |
| Dim.scule (strunjire/frezare) [mm] | 32/50 |
Specificații Tehnice L400LC
| | |
| --- | --- |
| Diametru Max. [mm] | 630 |
| Lungimea Max. [mm] | 2,120 |
| Arbore principal [tip antrenare] | Cutie viteze |
| Diametru universal [inch/mm] | 15″/381 |
| Viteza arbore principal [rot/min] | 2,000 |
| Putere Motor [kW] | 37/30 |
| Cuplu Arbore [Nm] | 3,073/2,490 |
| Curse (X,Y) [mm] | 320/2,200 |
| Curse rapide [m/min] | 20/20 |
| Ghidaje [tip] | Box |
| Numar de scule | 10 |
| Dim.scule (strunjire/frezare) [mm] | 32/50 |
Similar Products
Resources / External Links