L800A | L800MA | L800LA | L800LMA
The CNC Turning Center L800 Series, designed by Hyundai WIA with years of expertise and the latest technology, is a Turning Center that maximizes productivity and performance.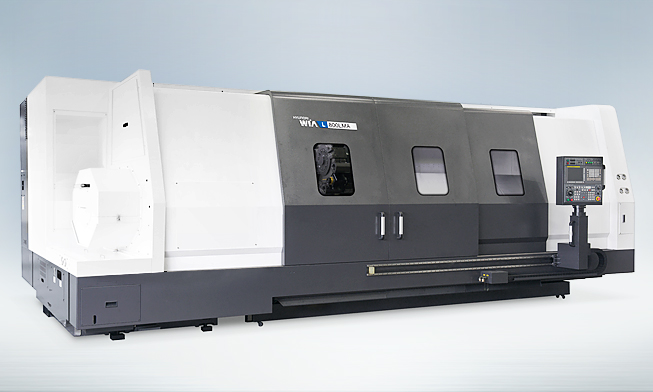 Sturdiness secured through the adoption of an all Axis box guide
All-in-one type structure with direct link for high accuracy and sturdiness
Based on double anchor method for high accuracy pretension
Minimized heat deformation in the main spindle
Gear box used for the main spindle (L600/700 Series : 3 step/ L800 Series : 2 step)
Structural design featuring the major axis capable of processing a maximum length of 3,250mm (127.9″) (Long Bed Type)
High Precision & Rigidity, One-Piece Structure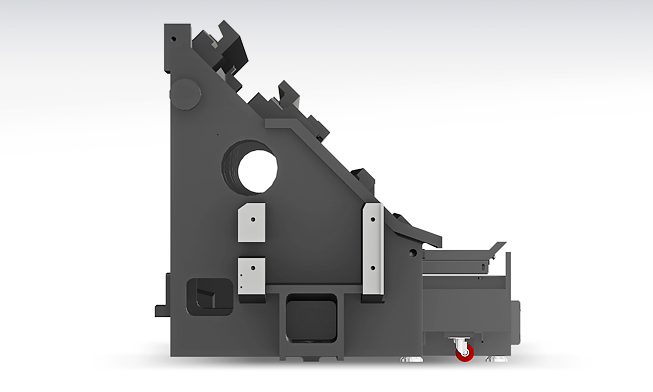 The L600/700/800 series features a 45° slant bed design which is developed through finite element analysis (FEA) to effectively absorb vibration and minimize heat generation. The structure ensures stability which enables powerful and precise cutting.
Guideway
Box Guideway
The L600/700/800 Series, specialized in machining large products, features box guideways in all axes and gear driven main spindle. The series demonstrates unsurpassed performance in heavy duty cutting.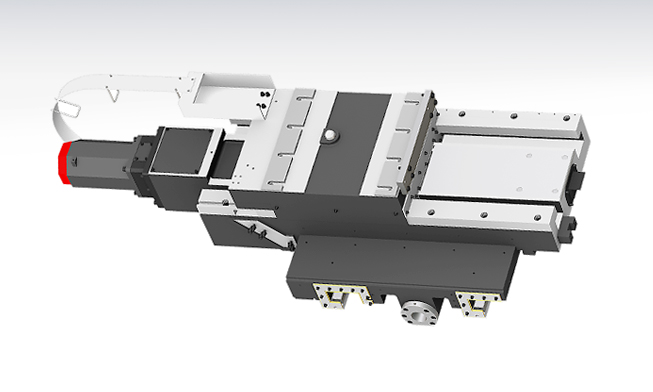 Ball Screw
Travel is stabilized by fixing both ends of the ball screw with double anchored method. In particular, a large diameter ball screw with proper preload reinforces sturdiness and resistance to thermal displacement.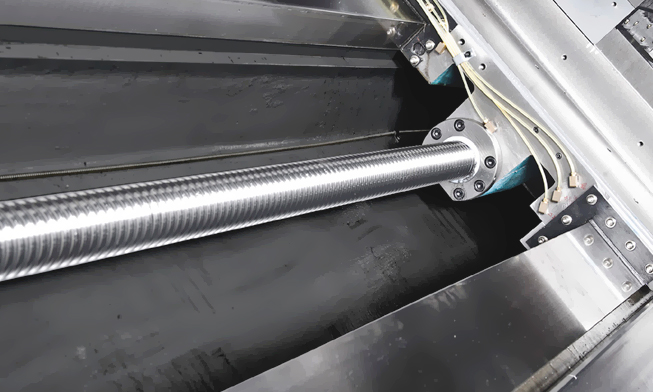 Main Spindle
Spindle Ideal for Heavy Cutting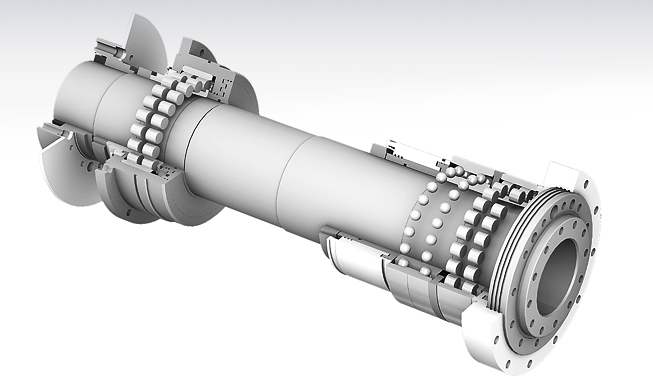 To accomplish advanced stability during heavy duty cutting, a combination of P4 double cylindrical roller bearings and angular bearings are adopted. The double locking device separates the spindle bearing and pulley to prevent a decrease in spindle bearing pretension during interrupted cutting, heavy duty cutting, chuck cylinder operations, and by belt pulley tension.
Spindle Gear Box
Gear shift of spindle provide stability and high torque during low speed.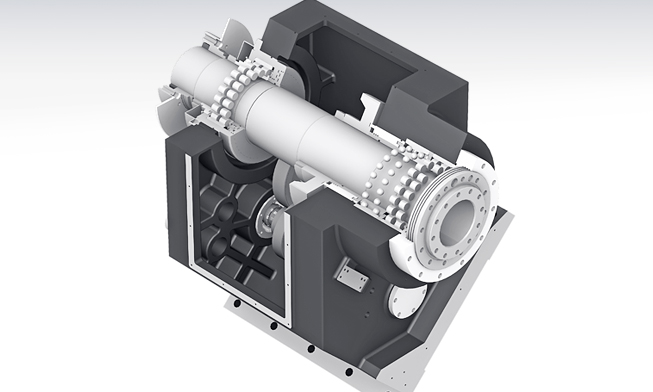 C-Axis Control ('M' Type)
The C-axis is capable of 0.001° control when milling turret is applied. Machining capability is strengthened with turning and milling operations.
Big bore spindle (L800/D Series)
Max. Spindle Bore L800LMA : Ø320 (Ø12.6″), L800D : Ø375 (Ø14.8″) show excellent performance in machining large cylindrical parts for oil and gas industry.
Air Chucking System
A dual chuck design – one on each end of the spindle – offers superior
support of the workpiece such as long shafts or pipe
Built-In Tail Stock
The built-in tail stock ensures high accuracy even during heavy duty cutting and can be controlled automatically or manually.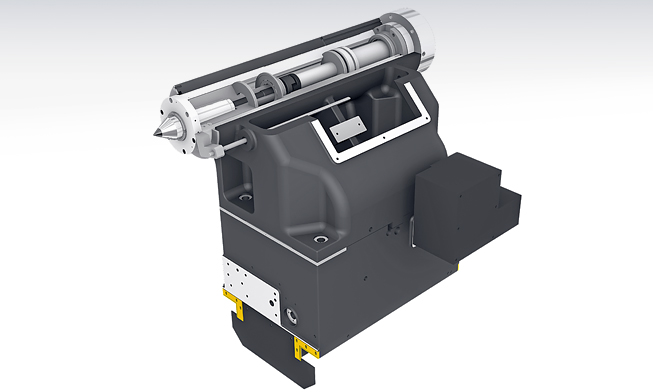 Turret
Standard Turret
The L600/700/800 Series apply an AC Servo Motor to enhance machining reliability. Also, split accuracy is improved by using 3-piece couplings. Powerful hydraulic tool clamping system minimizes tool tip displacement caused by workload.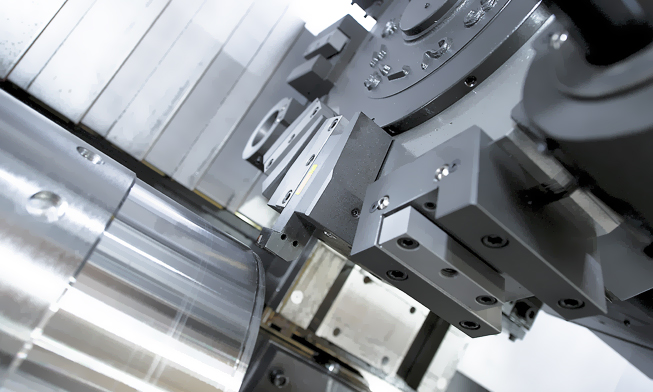 70 bar High Pressure Coolant
Turret is designed to utilize 70 bar high pressure coolant and it shows
optimum performance in machining difficult-to-cut material.
BMT85 Turret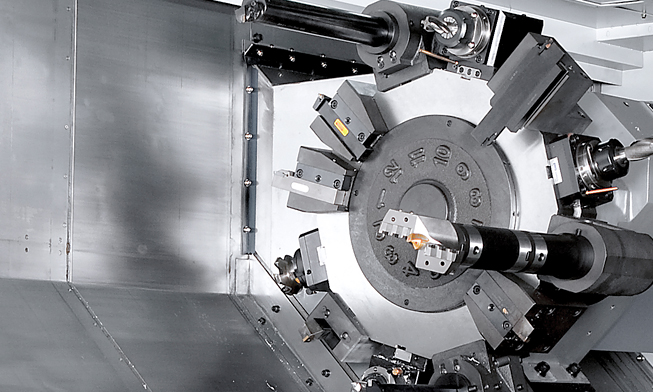 The BMT turret secures the tool with four bolts and key on the tool mounting surface of the turret, making it possible to powerfully fix the tool, ensuring high reliability in rigidity and precision.
Mill Tool Holder
Machining capability has increased with the addition of straight milling head tool holder.
L800 Series high precision CNC turning centers
Automatic Q-Setter
Cutting tools are calibrated quickly and accurately with the addition of a q-setter. Each tool tip is touched off manually using a sensor that inputs the position automatically.
Steady Rest
For long parts, such as shafts, the steady rest increases rigidity and minimizes vibration.
Rear Chuck
The rear chuck option enables long products such as long shaft or pipes to be processed in a stable condition.
Technical Specifications L800A
| | |
| --- | --- |
| Max Turning Dia [mm] | 920 |
| Max Turning Length [mm] | 1,650 |
| Driving Method | Gear |
| Chuck Size [inch/mm] | 32″/812,8 |
| Spindle RPM [rot/min] | 700 |
| Spindle Output [kW] | 45/37 |
| Spindle Torque [Nm] | 7,045/5,795 |
| Travel (X,Y) [mm] | 500/1,680 |
| Rapid Travel [m/min] | 12/16 |
| Slide Type | BOX |
| No. of Tools | 10 |
| Tool Size (turning/milling) [mm] | 32/80 |
| Milling Tool Speed [rot/min] | – |
Technical Specifications L800MA
| | |
| --- | --- |
| Max Turning Dia [mm] | 920 |
| Max Turning Length [mm] | 1,650 |
| Driving Method | Gear |
| Chuck Size [inch/mm] | 32″/812,8 |
| Spindle RPM [rot/min] | 700 |
| Spindle Output [kW] | 45/37 |
| Spindle Torque [Nm] | 7,045/5,795 |
| Travel (X,Y) [mm] | 500/1,680 |
| Rapid Travel [m/min] | 12/16 |
| Slide Type | BOX |
| No. of Tools | 10 |
| Tool Size (turning/milling) [mm] | 32/80 |
| Milling Tool Speed [rot/min] | 3,000 |
Technical Specifications L800LA
| | |
| --- | --- |
| Max Turning Dia [mm] | 920 |
| Max Turning Length [mm] | 3,250 |
| Driving Method | Gear |
| Chuck Size [inch/mm] | 32″/812,8 |
| Spindle RPM [rot/min] | 700 |
| Spindle Output [kW] | 45/37 |
| Spindle Torque [Nm] | 7,045/5,795 |
| Travel (X,Y) [mm] | 500/3,280 |
| Rapid Travel [m/min] | 12/12 |
| Slide Type | BOX |
| No. of Tools | 10 |
| Tool Size (turning/milling) [mm] | 32/80 |
| Milling Tool Speed [rot/min] | – |
Technical Specifications L800LMA
| | |
| --- | --- |
| Max Turning Dia [mm] | 920 |
| Max Turning Length [mm] | 3,250 |
| Driving Method | Gear |
| Chuck Size [inch/mm] | 32″/812,8 |
| Spindle RPM [rot/min] | 700 |
| Spindle Output [kW] | 45/37 |
| Spindle Torque [Nm] | 7,045/5,795 |
| Travel (X,Y) [mm] | 500/3,280 |
| Rapid Travel [m/min] | 12/12 |
| Slide Type | BOX |
| No. of Tools | 12 |
| Tool Size (turning/milling) [mm] | 32/80 |
| Milling Tool Speed [rot/min] | 3,000 |
Similar Products
Resources / External Links