KL2300A | KL2300LA
The KL2300A is an 8-inch lathe born to be second to none in the Korean machinery industry. Particularly notable is the greatly enhanced performance of the spindle, the core unit of the lathe, ensuring excellent cutting performance. The machine is the genuine fruit of HTUNDAI WIA's lathe technology.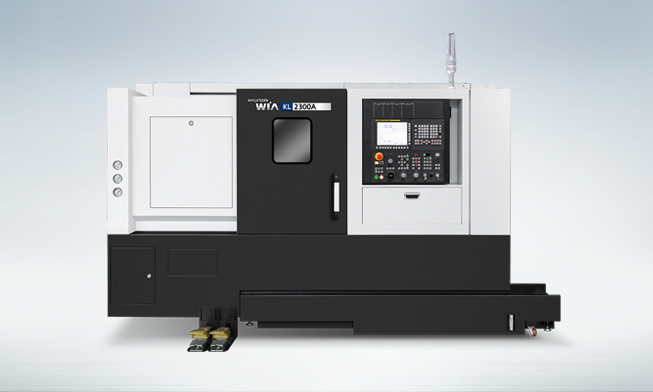 High precision, high rigidity all-in-one type of bed
Enlarging distance between each rail span
Durability improved by application of multistage slide cover
Chip disposal capability is approved with one-piece coolant tank
High Precision, High Rigidity All-In-One Type of Bed
45° slant bed is designed with square and tubular rib structure. It shows excellent performance in absorbing vibration and its high rigidity enables heavy duty cutting.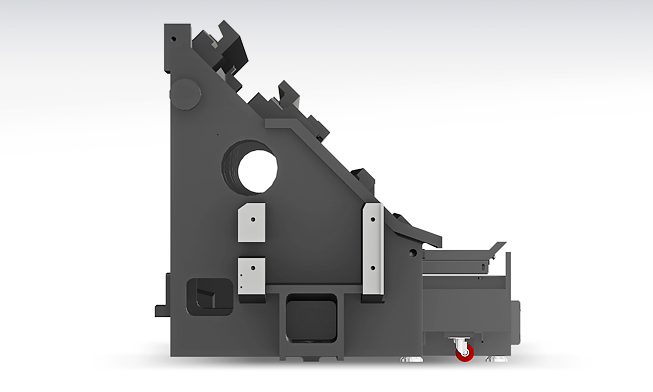 One-piece Cooolant Tank
The structure of the coolant tank is designed as a one-piece structure, so there is no clogging of overflow and hose of cutting oil, chip removal is possible from the right side of machine and chip processing ability is improved.
Guideway
Linear Motion
KL2300A applies roller type LM guideways in Z-axis delivering high rigidity and speed to improve productivity.
Enlarging Distance Between Each Rail Span
A machine tool's feed capacity varies greatly depending on the
distance between guideways on feed axis. If the distance between the guideways is too narrow, the feed body becomes less rigid, whereas if it's too wide, it sags and sinks downwards in the middle. To cope with this technical challenge, KL2300A has been designed by using the Finite Element Method (FEM) analysis so that the distance between guideways on the X-axis to be 250mm (9.8″) and on the Z-axis to be 350mm (13.8″), enabling high-quality machining in a highrigidity heavy cutting environment.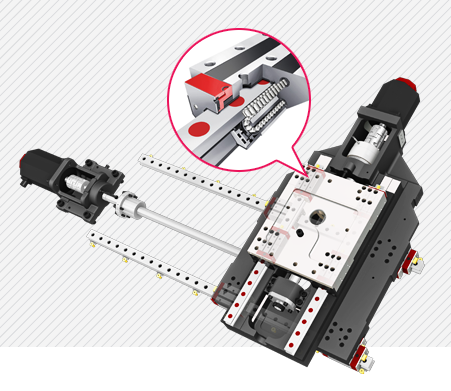 Ball Screw
To prevent the expansion of ball screws due to higher temperatures during feeding, and to remove the feeding axis backlash, the both ends are fixed with 4-row precision angular thrust bearings and are preloaded.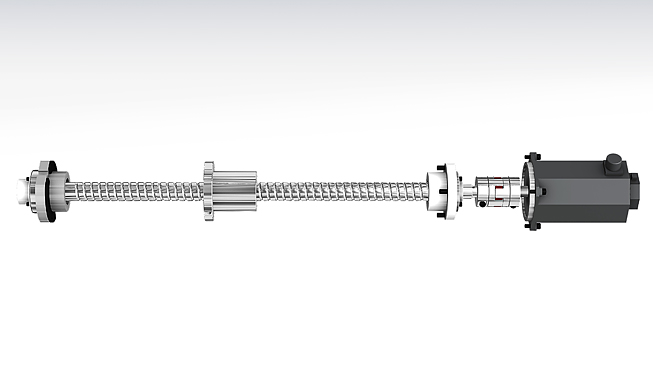 Main Spindle
High-Precision Spindle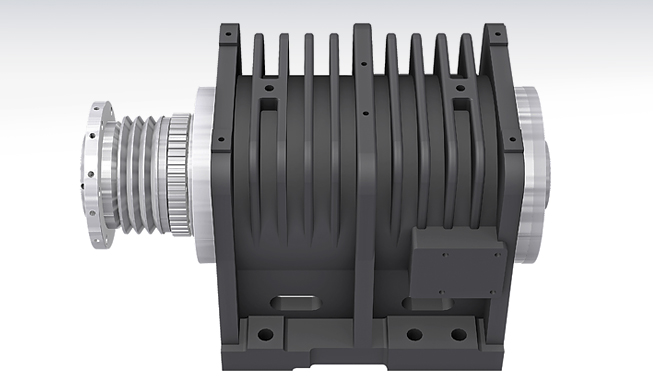 The main spindle is designed with the same structure often found in larger sized machines. The combination of taper roller bearings and angular contact ball bearings leads to excellent heavy duty cutting performance. Also, machining performance is enhanced by applying ribstar belt to minimize noise and belt slipping problems. The spindle is designed with a Labyrinth structure to minimize possible bearing damage from coolant and to improve machining stability.
Tail Stock
The KL2300A can be processed with high quality by applying a tailstock as standard.
Servo Turret
The turret of KL2300A is joined with a high performance AC servo motor, improving machining reliability. The 3-piece coupling shows excellent performance in indexing. Powerful hydraulic tool clamping minimizes tool tip deviation caused by workload.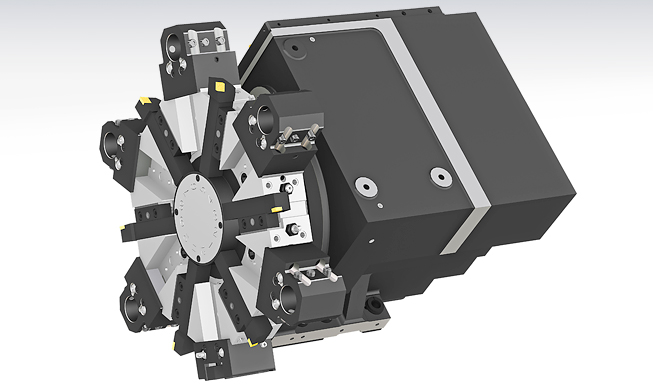 Holder
To enhance rigidity, M10 bolts are used to fix holders and M12 bolts are used to fix boring bar holders.
20 Bar(290 psi) High Pressure Coolant
Turret is designed to utilize 20 bar(290 psi) high pressure coolant and it shows optimum performance in machining difficult-to-cut material.
Technical Specifications KL2300A
| | |
| --- | --- |
| Max Turning Dia [mm] | 355 |
| Max Turning Length [mm] | 440 |
| Driving Method | Belt |
| Chuck Size [inch/mm] | 8″/203,2 |
| Spindle RPM [rot/min] | 4,000 |
| Spindle Output [kW] | 18.5/15 |
| Spindle Torque [Nm] | 353.2/214.8 |
| Travel (X,Y) [mm] | 220/440 |
| Rapid Travel [m/min] | 36/36 |
| Slide Type | LM |
| No. of Tools | 12 |
| Tool Size (turning/milling) [mm] | 25/40 |
Technical Specifications KL2300LA
| | |
| --- | --- |
| Max Turning Dia [mm] | 355 |
| Max Turning Length [mm] | 560 |
| Driving Method | Belt |
| Chuck Size [inch/mm] | 8″/203,2 |
| Spindle RPM [rot/min] | 4,000 |
| Spindle Output [kW] | 18.5/15 |
| Spindle Torque [Nm] | 353.2/214.8 |
| Travel (X,Y) [mm] | 220/560 |
| Rapid Travel [m/min] | 36/36 |
| Slide Type | LM |
| No. of Tools | 12 |
| Tool Size (turning/milling) [mm] | 25/40 |
Similar Products
Resources / External Links