XM2600ST 9-axis Multitasking Machine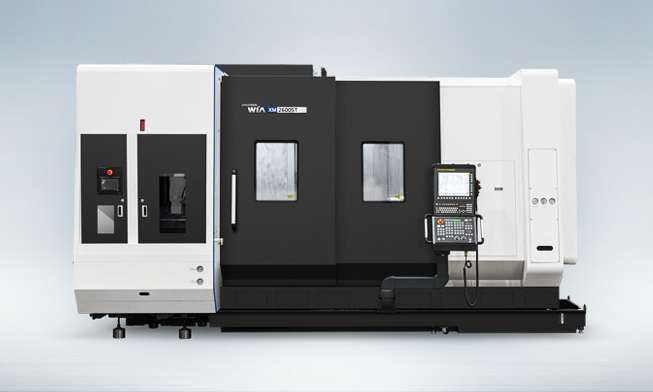 Process-intensive 9-axis Multi-tasking Machine with XM2600ST 01the Mill Head, 2 Spindle & Lower Turret
The adoption of a milling head with a built-in motor B axis (0.0001°) enables the operator to perform turning and milling works in perfect harmony
Expanded machining area by shortening the length of the mill head : 550 mm (21.7′′) -> 420 mm (16.5′′)
Y-axis travel distance increased : 250 mm (9.8′′) -> 300 mm (11.8′′)
Application of CAPTO C6 tool for high speed complex machining
The model features built-in 1st & 2nd-spindles with high power and high torque
Bed structure
High Precision, High Rigidity Bed Structure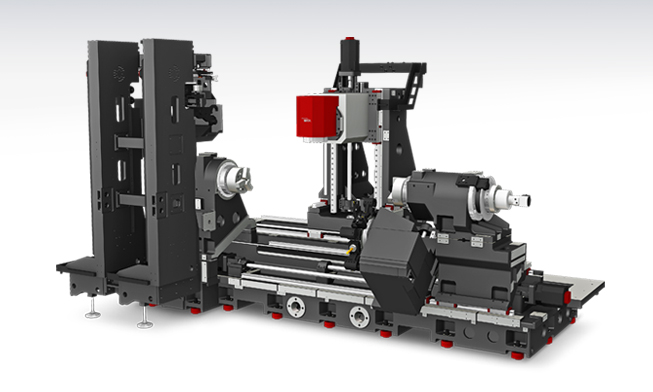 The new bed design has especially been interpreted and designed with the FEM method to minimize various factors such as thermal distortion and vibration, which could take place during machinine. Also to secure machining, XM2600ST is designed low bed structrue compared to previous model.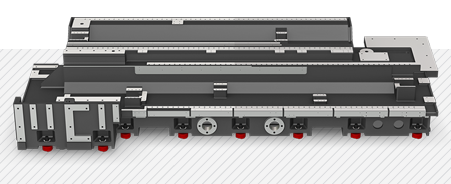 High-Speed Travel
Cross Type Y-axis
Wide Machining Range of Y-axis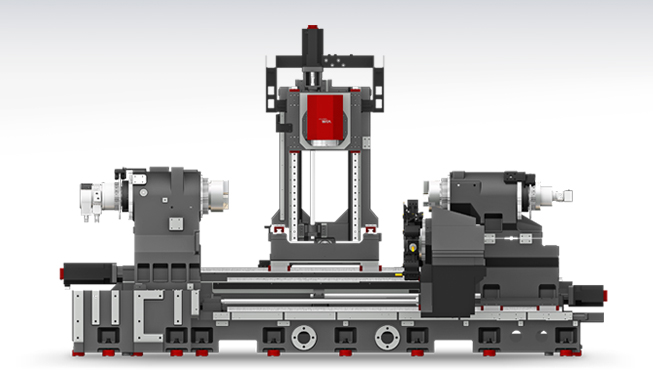 High-Speed Roller LM Guideway
Ball Screw Nut Cooling (Z1/Y/X1 axis : Std.)
High-Precision Linear Scale
Linear scales on all axes providing high precision positioning accuracy and compensates for ball screw thermal displacement ensuring extremely precise machining. In addition, the absolute type linear scale is installed in close proximity to the ball screw of each axis.
Mill Head
Milling heads for machining complex shapes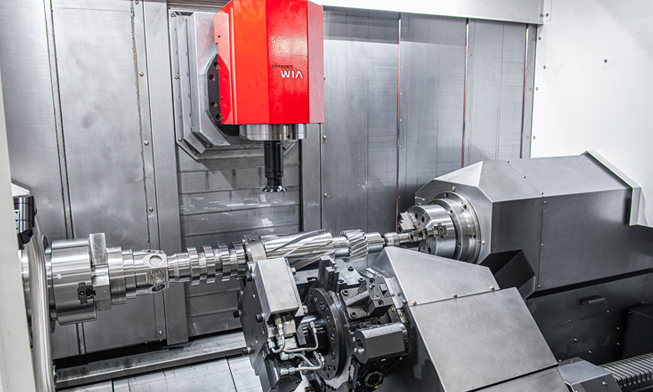 Expansion of machining range
The length of the mill head has been reduced by 130mm (5.1′′) compared to the previous model to expand the machining range. <550 → 420mm (21.7′′→16.5′′)>.

Compact Mill Head with a B-axis Operated by a High-precision DDM
The mill head is a product of combining HYUNDAI WIA's latest technologies. The B-axis operated by DD motor method (0.0001°) to eliminate rotational backlash and spindle 1 (0.0001°) together can machine impellers, blades and other simultaneous 5-axis machining (standard application). Also, it can perfectly carry out machining of workpieces with complex shape including sloped surface, etc.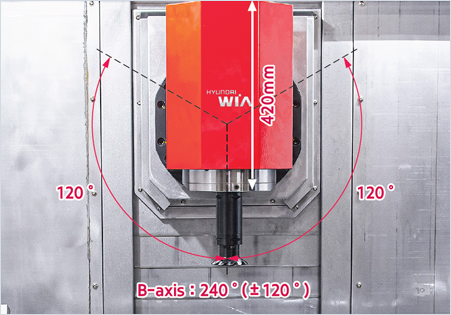 Tool Shank CAPTO-C6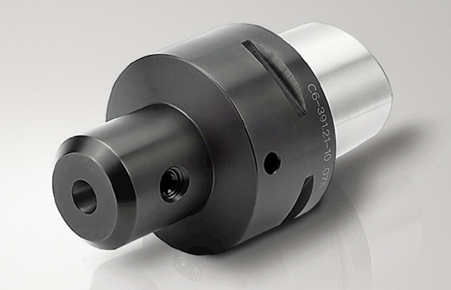 CAPTO-C6, which allows double-sided circulation, is applied as a standard for maximum cutting capability.
Ideal over load analysis
Decreased tool change time by short taper / Excellent cutting ability
Spindle
Built-in Spindle (1st/2nd)
The 1st and 2nd spindles with a built-in motor structure can minimize the vibration and heat generated during high-speed rotation, which makes them ideal for high-precision machining. Also, Machines with a 2nd spindle can perform secondary operations with a single setup, increasing flexibility and productivity.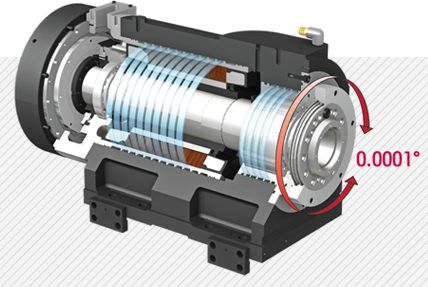 Spindle Oil Cooling
Turret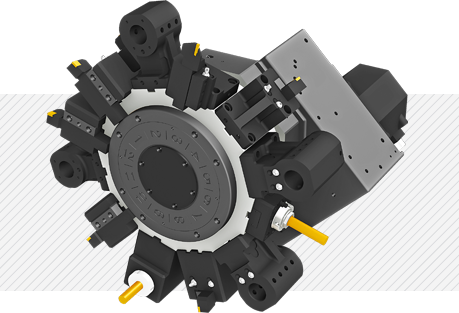 Turret-attached Type Rest
It guarantees machining stability by preventing tilt and shaking during machining of products such as long shafts. SLU3.2 Rest can also be applied for machining large workpieces.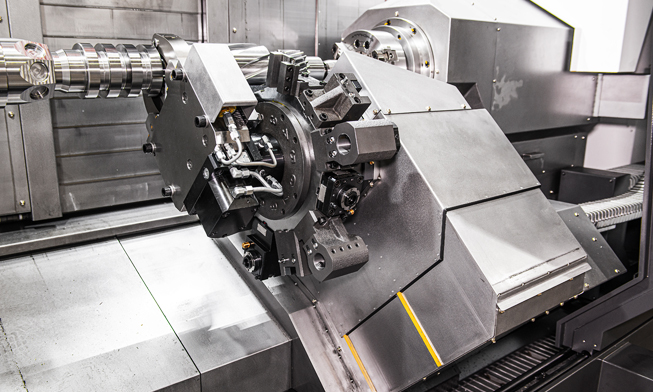 Optional Mill Turret (Std. 12T Turning Turret)
Mill Tool Holder
Machining capability has increased with the addition of straight milling head tool holder, which can machine workpieces from the side, and angular milling head tool holder, which can perform I.D. operations.
Special Tool
XM2600ST can process high value-added products using a variety of rotating tools. In particular, multi-holders for attaching variety of tools to one holder, and eccentric rotary tool for handling eccentric parts without additional axis movement, which can realize integration of process with one machine (ANGLE HEAD, GEAR HOBBING HEAD, DOUBLE TYPE HEAD).
ATC & Magazine
The installation of magazine on the front provides efficient tool change and tool setting. Magazine with chain driving method provides 40 tools as standard, and 80 tools as option.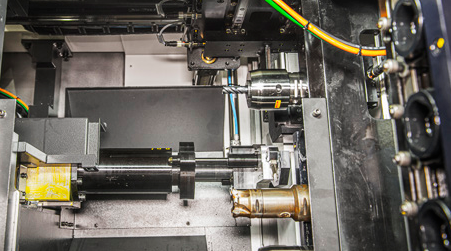 Various Devices for User Friendly
The XM2600ST offers Ergonomic Design for Easy Operability and Maintenance.
Improved Access with Larger Front Door
The adoption of a larger front door makes crane access for cutting preparation works, such as setting up workpieces, much easier.
Highly Accessible Spindle
The spindle's ergonomic design improves access for the chuck and makes it easier to set up workpieces.
The height from the floor to the center of the spindle has been carefully considered in order to improve the operator's convenience when setting up work pieces.
Operation Panel
The arms for the OP box and the OP box can rotate independently, which makes operating convenient depending on the workpiece setting or worker position thus allowing the user to easily move the arms to desired location.
Video machining XM2600ST
Technical Specifications XM2600ST
Max Turning Dia [mm]
660
Max Turning Length [mm]
1,540
Driving Method
Built in
Chuck Size [inch/mm]
Main 8″/203.2
Sub 6″/152.4
Spindle RPM [rot/min]
4,000
Spindle Output [kW]
30/22
Spindle Torque [Nm]
724/410
Travel (X,Y,Z) [mm]
695/1,585/300/235/1,540/1,540
Rapid Travel (X,Y,Z) [m/min]
48/48/36/24/36/30
Slide Type
LM
No. of Tools
Mill head : 40T / Turret : 12T
Tool Size (turning/milling) [mm]
Mill head : D Ø130/ L450 / Turret : 25/Ø40
Milling Tool Speed [rot/min]
Mill head : 12,000 / Turret : 5,000
Similar Products
Resources / External Links