LF2200 II | LF2200Quick II | LF2200M II | LF2200MQuick II
LF2200II front turning center with two universals offers high precision and excellent cutting performance with gantry type feed.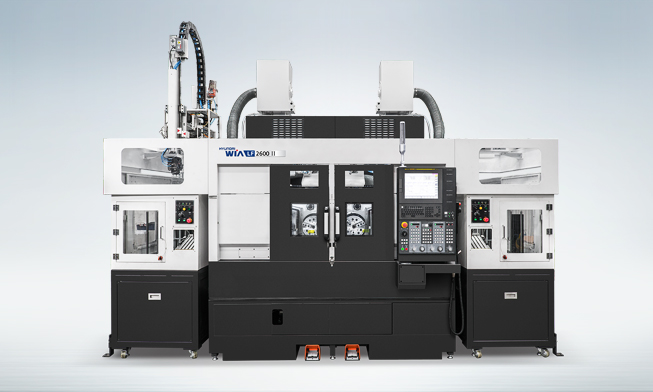 Increased rigidity by improving Z-axis structure
Selection between roller LM guide and box guide way
Stable unit composition with minimized thermal deformation
Various types of gantry loader ensure effective & flexible automation
A pleasant working environment by improving chip disposal ability
Enhanced convenience by applying Fanuc's latest controller
Optimized design CNC turning center with double front loading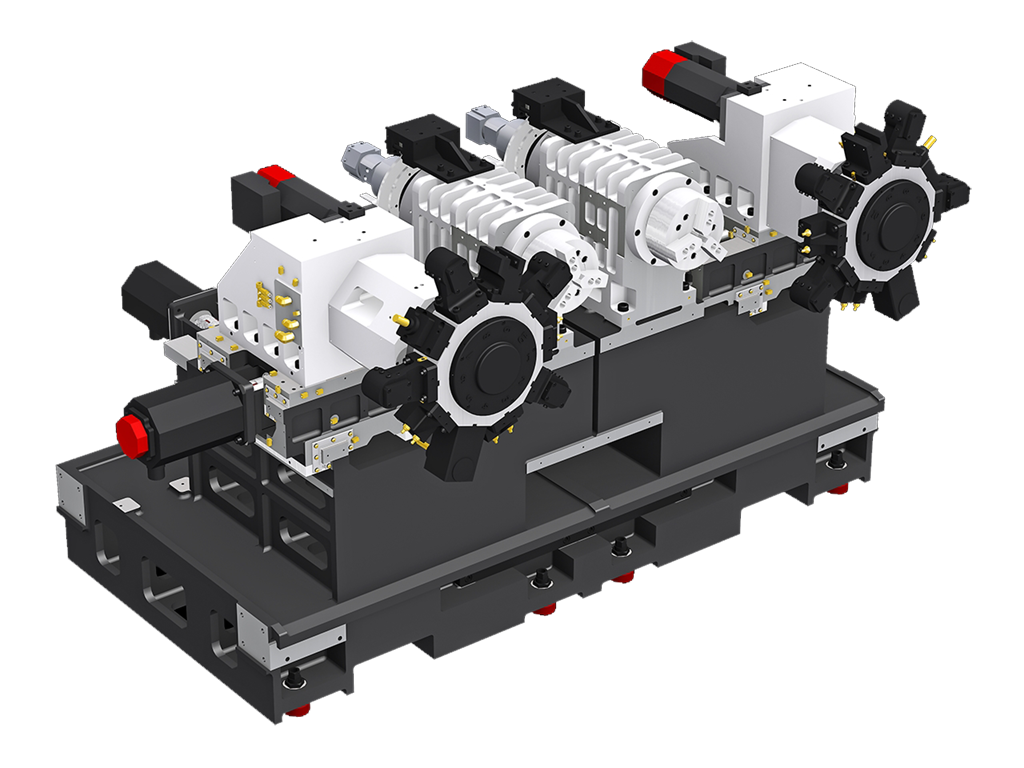 HIGH PRECISION STRUCTURE
Separated Bed Structure
The LF-II series is designed as a separated bed structure,
minimizing thermal growth and vibration, ensuring stable
cutting capability.
Z-axis Structure
Prevent sagging of the turret by reducing the protruded parts of the headstock by changing the structure of the Z-axis, and allow for high-precision machining of the product by increasing rigidity.
Guideway
Roller LM Guide / Box Guide
The transfer axis of LF-II Series give options for roller LM guide and box guide to ensure optimum conditions according to machining characteristics.
Servomotor coupled directly to the X / Z axis
The X / Z axis is connected directly to an extremely reliable digital servomotor to provide high rigidity and minimal thermal displacement.
Increase the distance between the guides
Increasing the distances between the guides allows an optimal axial force, leading to a stable supply in operations.
X / Z axis guide width
Increasing the width of the X / Z guides increases the stability of fast races.
Spindle
Spindle for Heavy Cutting
The spindle has the highest speed and torque in its class, which provides high performance during high speed/heavy duty cutting. Also the spindle is designed with [Ø110 (Ø4.3″)] size P4 angular contactball bearings to minimize thermal displacement and increase accuracy.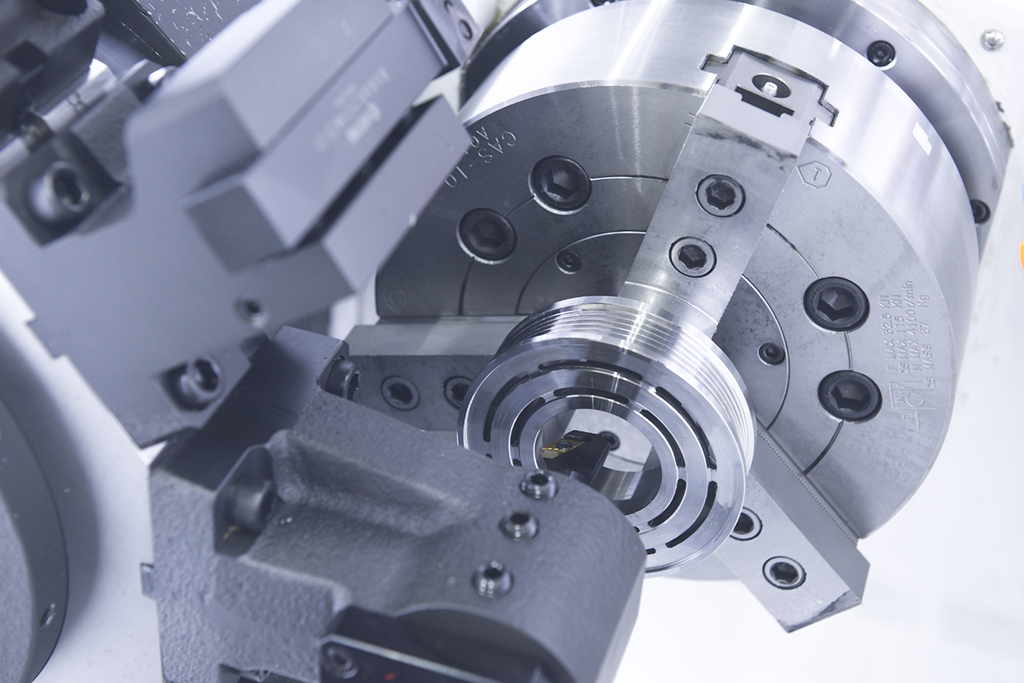 C-Axis Control ("M" Type)
C-axis of LF2200M II can be controlled to 0.001° which makes it possible to process various shapes.
Spindle Processing Flow
1 Parts requiring secondary operations are transferred from Z1 spindle to Z2 spindle
Same parts can be processed simultaneously by utilizing both spindles of Z1/Z2-axis with same parts.
03 Different parts can be processed simultaneously by utilizing both spindles of Z1/Z2-axis with various parts.
Turret
Servo Turret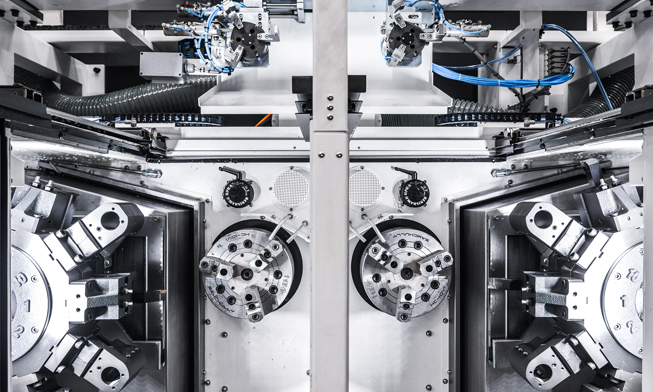 The turret of LF-II Series is applied with high performance AC servo motor, improving machining reliability. 3-piece coupling shows excellent performance in indexing. Moreover, powerful hydraulic hydraulic tool clamping minimizes tool tip deviation caused by load
BMT55 (LF2200M / 2600M)
The BMT turret secures the tool with four screws and a wrench on the mounting surface of the tool, making it possible to fasten it securely, ensuring a high reliability of the CNC machine through rigidity and precision.
Mill tool holder
Machining capability has increased with the addition of straight milling head tool holder, which can machine workpieces from the side, and angular milling head tool holder, which can perform I.D. operations.
Configure automation to improve productivity
Gantry-Loader automation is a method of automation that uses a loader.
The gantry-loader system transfers the semi-finished product from the warehouse to the universal, starting the processing process.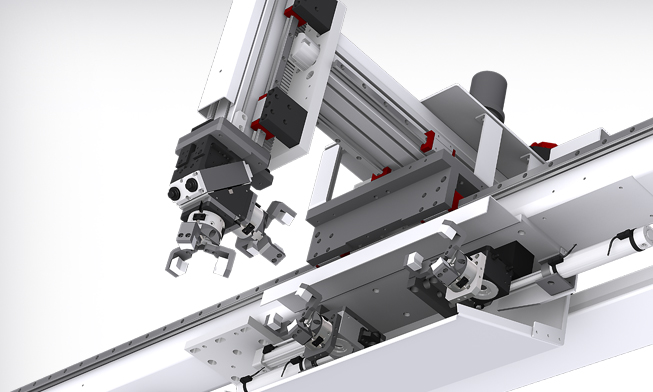 Gantry automation provides good access to equipment during operation and easy monitoring of program processing, modification and maintenance. In addition, the small footprint facilitates the optimized appearance of the factory.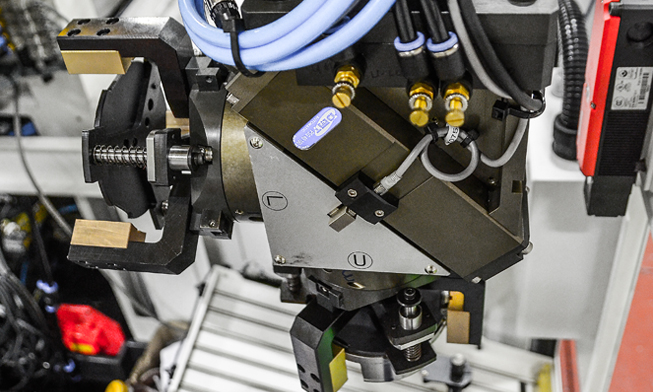 Technical Specification LF2200 II
| | |
| --- | --- |
| Max Turning Dia [mm] | 260 |
| Max Turning Length [mm] | 170 |
| Driving Method | Belt |
| Chuck Size [inch/mm] | 8″/203.2 |
| Spindle RPM [rot/min] | 4,500 |
| Spindle Output [kW] | 15/11 |
| Spindle Torque [Nm] | 127/70 |
| Travel (X/Y) [mm] | 140/170 |
| Rapid Travel (X/Y) [mm] | 24/24 |
| Slide Type [tip] | Box |
| Tool Size | 2 x 8 |
| No. of Tools [mm] | 20/32 |
| Milling Tool Speed [rot/min] | – |
Technical Specification LF2200Quick II
| | |
| --- | --- |
| Max Turning Dia [mm] | 260 |
| Max Turning Length [mm] | 170 |
| Driving Method | Belt |
| Chuck Size [inch/mm] | 8″/203.2 |
| Spindle RPM [rot/min] | 4,500 |
| Spindle Output [kW] | 15/11 |
| Spindle Torque [Nm] | 127/70 |
| Travel (X/Y) [mm] | 140/170 |
| Rapid Travel (X/Y) [mm] | 24/24 |
| Slide Type [tip] | LM |
| Tool Size | 2 x 8 |
| No. of Tools [mm] | 25/40 |
| Milling Tool Speed [rot/min] | – |
Technical Specification LF2200M II
| | |
| --- | --- |
| Max Turning Dia [mm] | 260 |
| Max Turning Length [mm] | 170 |
| Driving Method | Belt |
| Chuck Size [inch/mm] | 8″/203.2 |
| Spindle RPM [rot/min] | 4,500 |
| Spindle Output [kW] | 15/11 |
| Spindle Torque [Nm] | 127/70 |
| Travel(X/Y) [mm] | 140/170 |
| Rapid Travel (X/Y) [mm] | 24/24 |
| Slide Type [tip] | Box |
| Tool Size | 2 x 10 |
| No. of Tools [mm] | 25/40 |
| Milling Tool Speed [rot/min] | 6,000 |
Technical Specification LF2200MQuick II
| | |
| --- | --- |
| Max Turning Dia [mm] | 260 |
| Max Turning Length [mm] | 170 |
| Driving Method | Belt |
| Chuck Size [inch/mm] | 8″/203.2 |
| Spindle RPM [rot/min] | 4,500 |
| Spindle Output [kW] | 15/11 |
| Spindle Torque [Nm] | 127/70 |
| Travel(X/Y) [mm] | 140/170 |
| Rapid Travel (X/Y) [mm] | 24/24 |
| Slide Type [tip] | LM |
| Tool Size | 2 x 10 |
| No. of Tools [mm] | 25/40 |
| Milling Tool Speed [rot/min] | 6,000 |
Similar Products
Resource External Links