KF4300D | KF5200D
Column Moving Type Vertical Machining Center
Column Moving Type Vertical Machining Center with High-speed and large work space
The Vertical Machining Center KF-D Series designed by Hyundai WIA with years of expertise and the latest technology, is a column moving type machining center equipped with Dual Table to maximize productivity.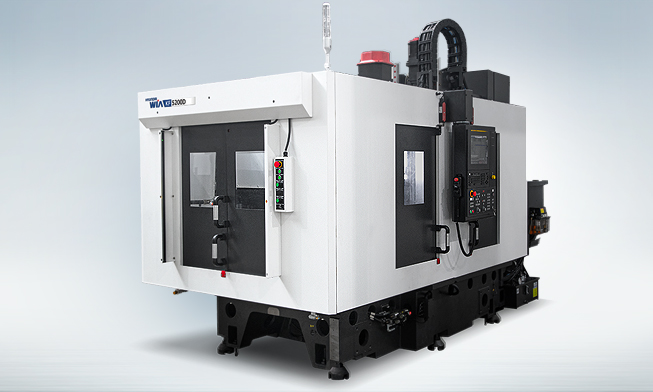 Dual Tables for enhanced productivity
High-precision machining by improved spindle quality (Max. 15,000 rpm direct spindle)
High-speed roller type LM guide in all axes (Rapid Traverse Rate : 42 m/min)
42 Tool pickup type magazine application that does not require automatic tool loading device ● Improved user convenience by applying the latest controller of FANUC
Column Moving Type Vertical Machining Center
Optimal Structural Analysis
KF-D series is designed to have optimal structure through Hyundai WIA's unique structural analysis. In particular, enhancement of bed and column's rigidity makes excellent performance even in heavy duty cutting.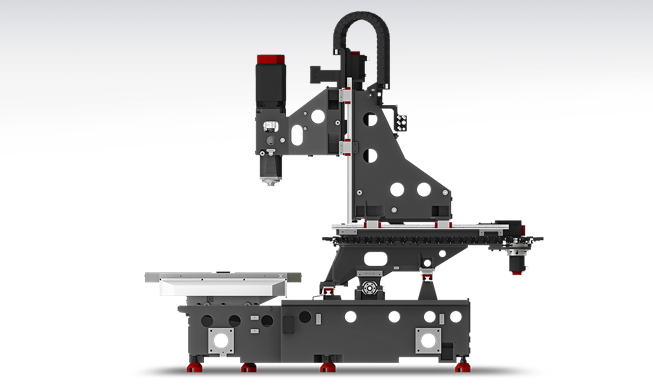 Moving Column
The KF-D Series is designed with a moving column in order to maximize productivity of the incorporated Dual Table. In addition, due to the enlargement of the column's width and symmetrical heat behavior column structure, heat displacement is minimized and machining accuracy is increased.
Minimized Heat Displacement
To prevent heat displacement of the bed from high temperature coolant, coolant leakage prevention bed cover is applied. This can provide stable machining precision even during long working hours.
Guideway
High-Speed Roller LM Guideway
By applying an roller LM guide structure with high speed and rigidity, a rapid traverse rate of 42m/min is achieved based on the all axes.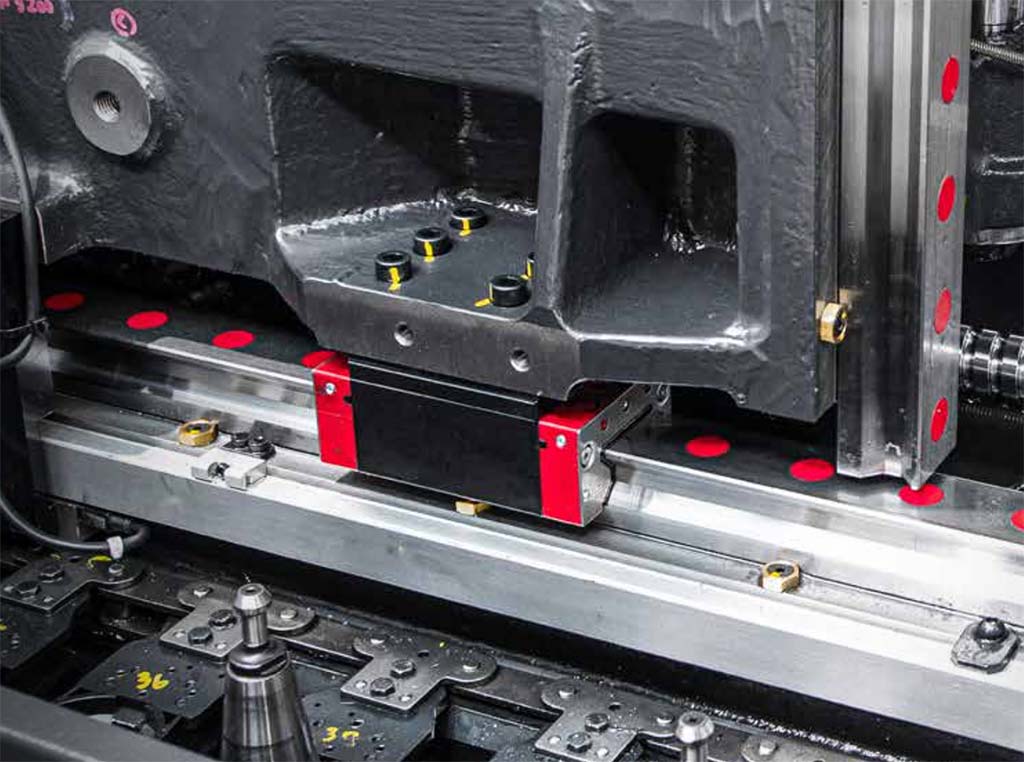 Ball Screw
The pretensioned ball screw minimizes the expansion and contraction according to the heat and further reinforces the rigidity by the double anchor support method.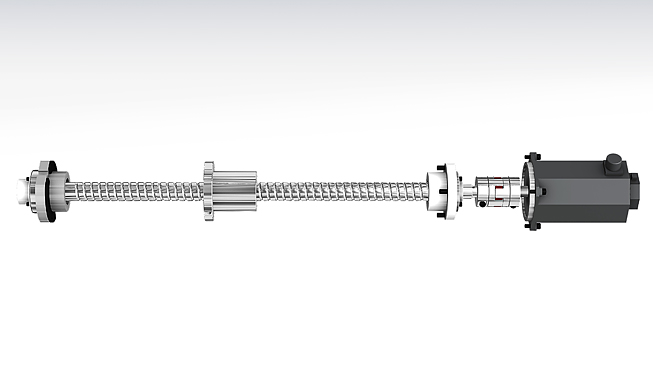 Spindle
Excellent machining performance with high-precision spindle
Direct Type Spindle
The spindle motor is directly connected to the main spindle by a high speed and high precision coupling. Rapid spindle acc/deceleration is performed without backlash. The coupling also minimizes vibration and heat transfer from the motor preventing thermal displacement.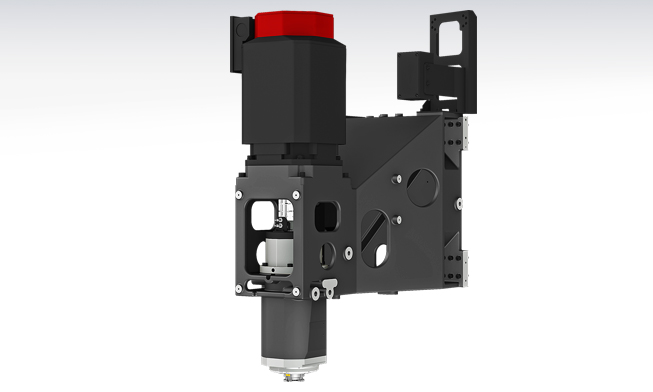 Spindle Cooling
The spindle cooling system minimizes thermal displacement which can happen during lengthy machining operations, and offers continued accuracy based on the thermal stability.
Through Spindle Coolant (20/30/70 bar) [Option]
Through Spindle Coolant is exceedingly useful when drilling deep holes. It helps increase the lifetime of the tool, while decreasing cycle time. Prevents oil leakage by applying high-quality rotary joints
Dual Contact Spindle
The Big Plus spindle system (BBT40) provides dual contact between the spindle face and the flange face of the tool holder.
HSK tool holder
HSK tool holder is untilized for precise positioning with less expansion in the spindle taper during high speed rotation. This ensures an excellent level of precision for die mold machining.
ATC & Table
Pick-up Type Magazine
Automatic tool loading device with unnecessary pick-up type magazine achieves best-in-class tool change time (chip to chip) of 3.9 sec and excellent maintainability. Chip disposal is enahanced by making the disposal direction going under the tools.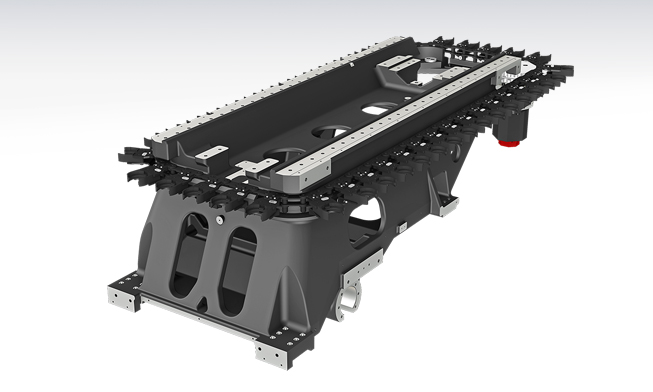 Dual Table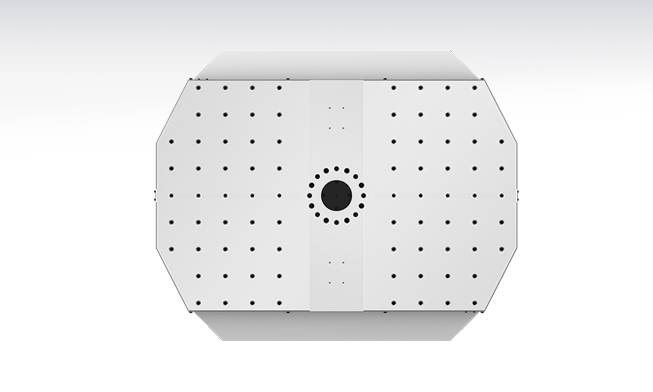 High productivity is achieved by the dual table which enables workers to setup a new workpiece while the machine is processing. Especially, the rotary table is designed for the simpler positioning by the location pin due to the application of hydraulic methods.
Technical Specifications KF5200D
| | |
| --- | --- |
| Table Size [mm] | 2 – 860×570 |
| Max. Load Capacity [kg] | 2 – 350 |
| Spindle Driving Method | Direct |
| Spindle Taper | BBT40 |
| Spindle RPM [r/min] | 8,000 |
| Spindle Power [kW] | 25/15 |
| Spindle Torque [Nm] | 159/95.5 |
| Travel(X/Y/Z) mm | 760/520/570 |
| Rapid Feed Rate(X/Y/Z) [m/min] | 42/42/42 |
| Slide Type | LM |
| No. of Tools | 42 |
| Tool Change Time (Chip To Chip) [sec] | 3.9 |
Similar Products
Resources / External Links