XF6300
Hyundai-WIA XF6300 – Introducing the The Best 5-axis Vertical Machining Center in the World.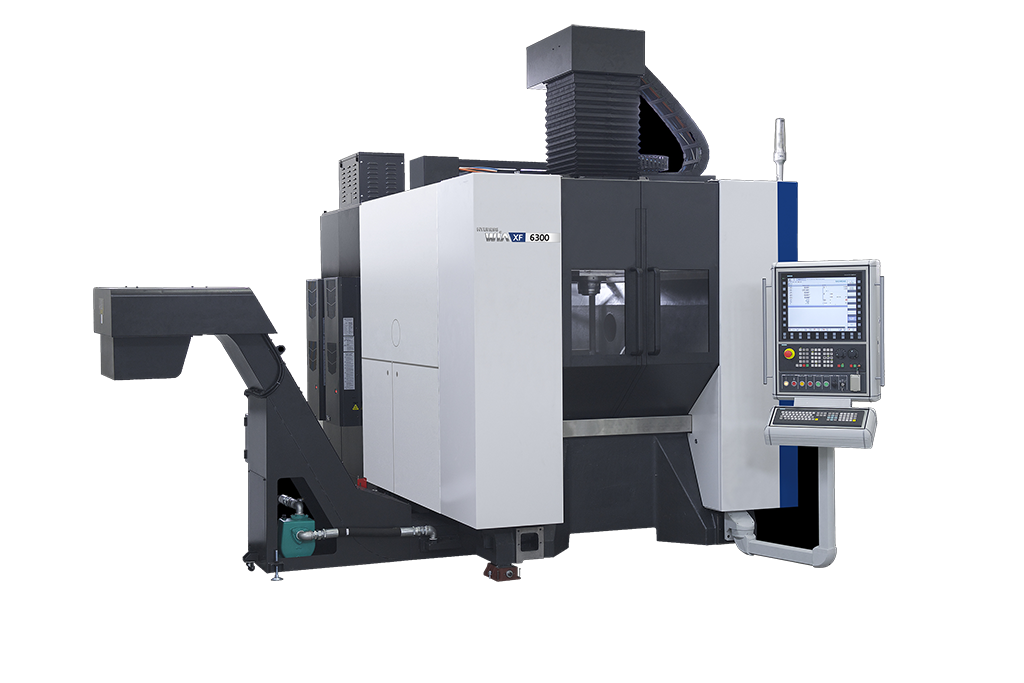 Increases strength with all-in-one bed & column structure
Machines High-precision parts with x-axis box-in-box structure
Built-in DDM table
Standard 34-tool ring-type ATC (C-C time: 4.5 sec.)
19″ LCD monitor
Cutting Edge Technology
The XF series 5-axis vertical machining center in the world-best level, developed by HYUNDAI WIA Europe R&D Center. XF series are a perfect blend of machine and technology to realize the ultimate performance in composite machining and mold machining with the highest quality possible resultant of its cutting-edge design features such as the monoblock type bed structure, X/Z axis box-in-box structure, etc.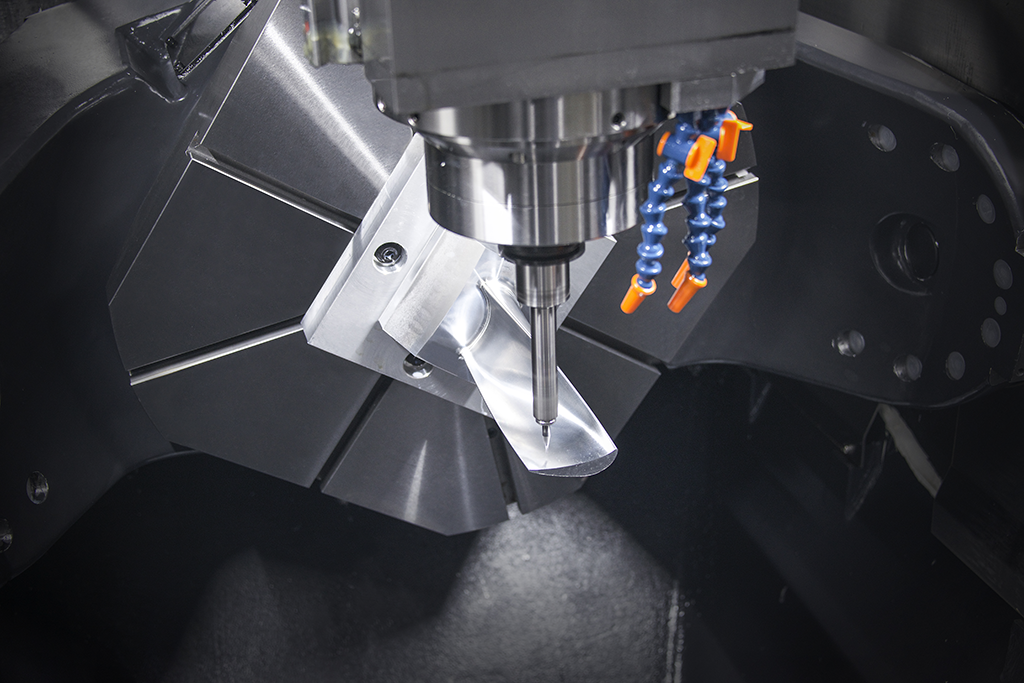 Optimal Structural Analysis (FEM)
The XF series are designed to be the optimum structure through HYUNDAI WIA's exclusive structural analysis.
Column / Bed All-in-One Structure
(Rigidity has improved by 130%)
The XF series are designed with an integrated one piece column-bed structure providing superior stability when compared with separate structures. The All-in-One structure delivers high rigidity and excellent vibration absorption providing exceptional performance and superior surface finishes.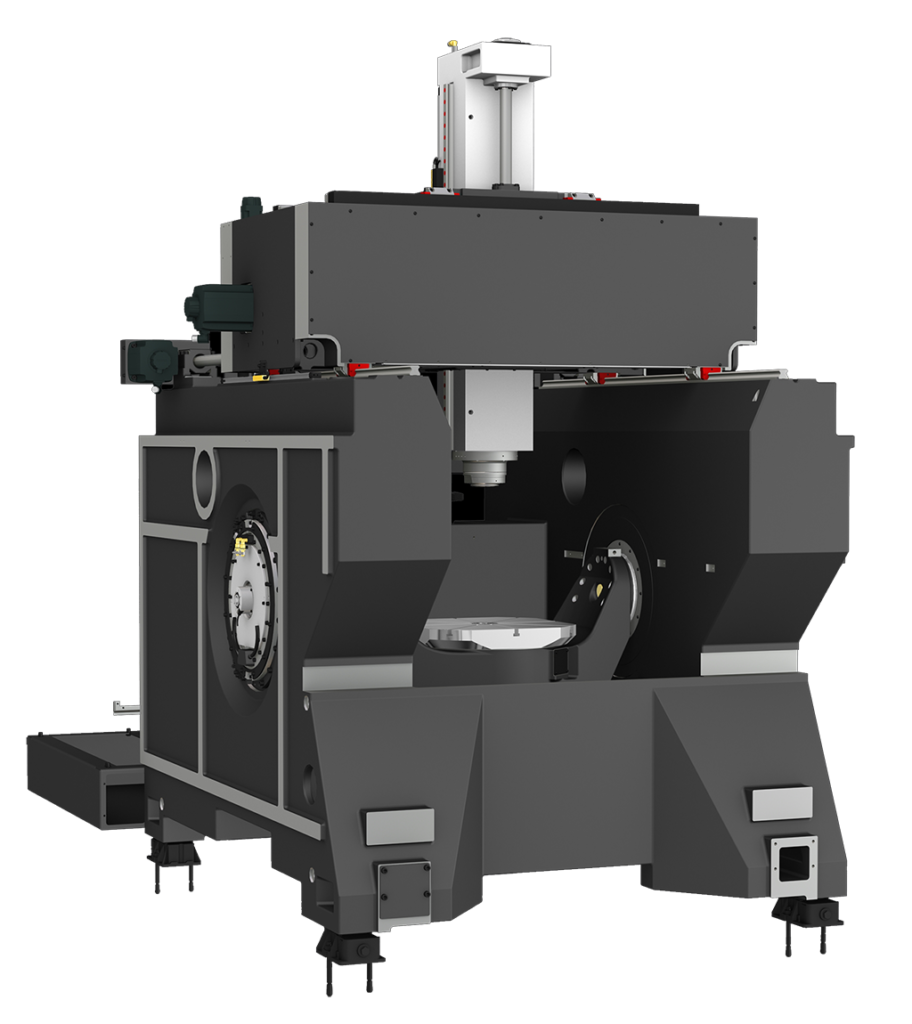 The monoblock design and integrated bed/column structure provides high rigidity ensuring outstanding dynamic characteristics.
Highly rigid structure without holes on the side wall and a minimal number holes are
required on the top and bottom top area
Casting rib structure optimized for high rigidity
The integrated rotary table A-axis/column structure ensures high rigidity and superior precision
The bed structure's agronomical design allows for easy access to the work area
Built-in Spindle
The built-in spindle minimizes spindle vibration, enabling outstanding performance in a high-precision cutting environment such as mold products.
Spindle Cooling
Spindle temperature is controlled by the use of a spindle oil chiller. This ensures consistent spindle temperature which minimizes thermal displacement.
HSK Tool Holder
HSK tool holder is untilized for precise positioning with less expansion in the spindle taper during high speed rotation. This ensures an excellent level of precision for die mold machining.
Tilting Rotary Table
Column-Integrated Table
The A-axis table is designed to be integral to the column. To do so the table is secured using HYUNDAI WIA`s proprietary method of injecting a specially formulated epoxy resin into a gap between column and table. This assembly technic delivers excellent clamping force and shock absorption are provided from the column.
DDM Tilting Rotary Table
The XF series has a tilting rotary table is designed to embody highly accurate high speed simultaneous 5-axis motion which allows for the machining of complex prismatic parts with superior accuracy and surface finishes. The direct drive system utilizes direct drive motor (DDM) delivering high precision and high speed for improved productivity. The integrated A-axis housing/column design ensures high rigidity.
Slideway Features
Symmetric Structure of Z-axis
Vibration and thermal displacement during travel can be
minimized by symmetric structure of Z-axis where travel axis is
aligned with the weight center of spindle.
Y-axis Double Ballscrew Structure
The Y-axis is driven by two ball screws and feed motors to
provide unprecedented speed, accuracy, stability, and
acceleration than general purpose machines.
4-Way Structure on X Axis (X-Carriage System)
X-axis of XF6300 has box-type saddle design with 4-way
structure in a cross beam to realize improved strength and minimal thermal displacement.
High-Speed Roller LM Guideway
The XF series features roller type LM guideway to reduce non-cut time with faster acceleration while providing high rigidity.
High-Precision Linear Scale
The XF series are equipped with linear scales on all axes providing high precision positioning accuracy and compensates for ball screw thermal displacement ensuring extremely precise machining.
In addition, the absolute type linear scale is installed in close proximity to the ball screw of each axis. During operation an added benefit is not being require to home the machine.
ATC & Tool Magazine
Tool change time (chip-to-chip) of 4.5 seconds is the best in its class. The rack type tool change mechanism was developed to add unprecedented extra-large capacity tool for vastly complex 5 axis machining applications. A single step rack magazine of 34 tools is provided standard. 68 and 102 tool capacity are optional.
Magazine
The tool magazine and machining area are completely separated by a shutter door to prevent coolant and chip contamination out of the tool storage area maintaining high precision and cleanliness. Minimal tool change distance between the tool changer and work area permits for a rapid tool change. In addition, collision is avoided regardless of A-axis position eliminating the need for homing of A-axis
Technical Specifications XF6300
| | |
| --- | --- |
| Table Size [mm] | 630×400 |
| Max. Load Capacity [kg] | 600 |
| Spindle Driving Method | Built in |
| Spindle Taper | HSK-A63 |
| Spindle RPM [r/min] | 15,000 |
| Spindle Power [kW] | 31/25 |
| Spindle Torque [Nm] | 153/123 |
| Travel(X/Y/Z) mm | 650/600/500 |
| Rapid Feed Rate(X/Y/Z) [m/min] | 60/60/60 |
| Slide Type | ROLLER |
| No. of Tools | 34 |
| Tool Change Time (Chip To Chip) [sec] | 4.5 |
Similar Products
Resources / External Links