XF2000 / XF2000i
Hyundai-WIA XF2000 / i 5-axis vertical center for critical precision component machining, award-winning product at EMO2017.
XF2000, the world's top-tier 5-axis horizontal machining center, is the creation of the Hyundai WIA Europe R&D Center. With an integrated bed & column structure, it not only provides outstanding structural stability, but also delivers unrivaled productivity with the world's top-level acceleration/deceleration 2G by giving the linear feed axis extraordinarily powerful feed capabilities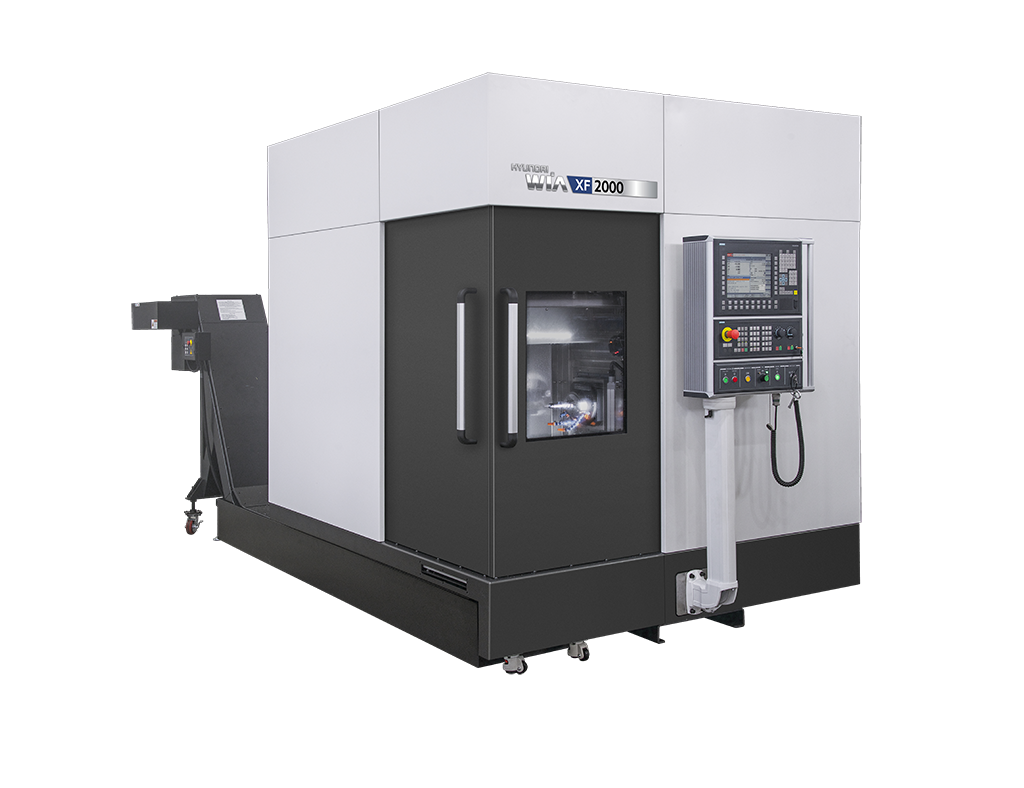 One-piece bed & column structure to increase structural stability
World class acceleration and deceleration speed of 2G (XF2000i : 1.2G)
Linear and rotary scale as standard features for the high quality of machining
Cantilever type DDM table
40,000rpm high-speed built-in spindle (XF2000i : 24,000rpm)
Spindle cooling device ensures stable machining capability even during the long work
High Precision & Speed 5-Axis Machining Center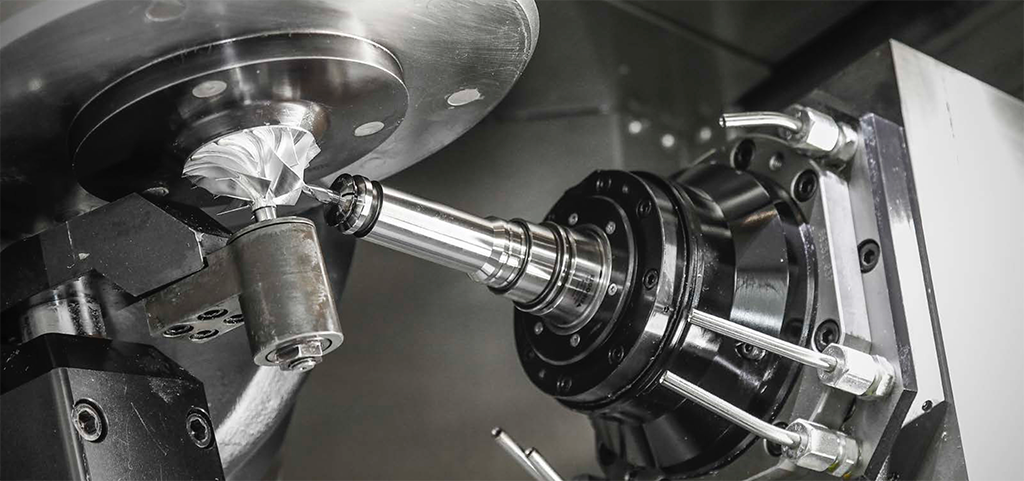 With the highest level of precision processing in its class, the XF2000 enables to produce small impellers within the shortest time possible, proving it is the best solution available on the market. To offer the company's customers the highest level of productivity, it is equipped with an efficient structure, backed by a monoblock type bed and a cantilever type DDM table.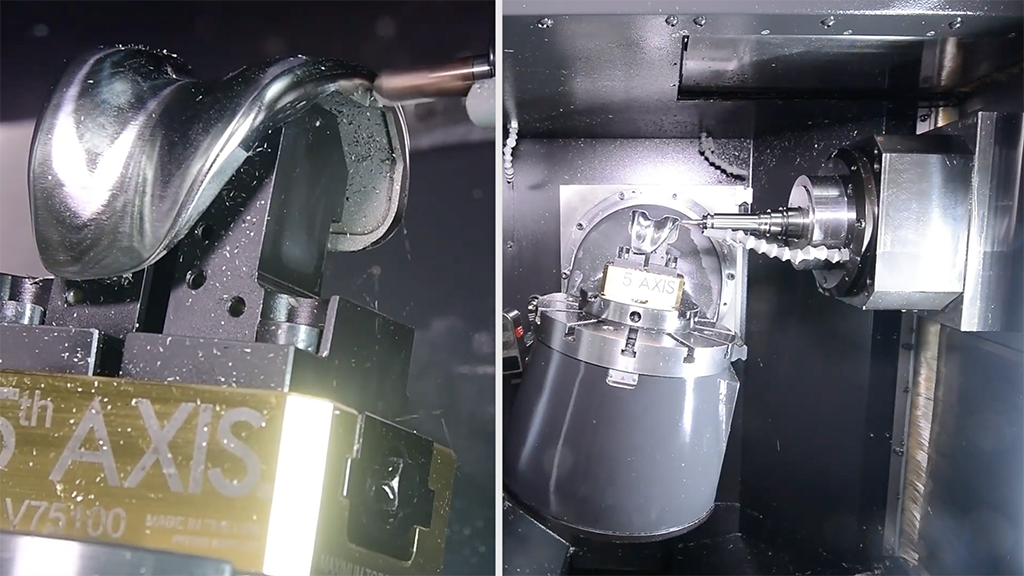 The XF2000 maximizes the dynamic rigidity by designing bed and column as an integral type, and improves the structural stability by concentrating the flow force between the work space and the tool.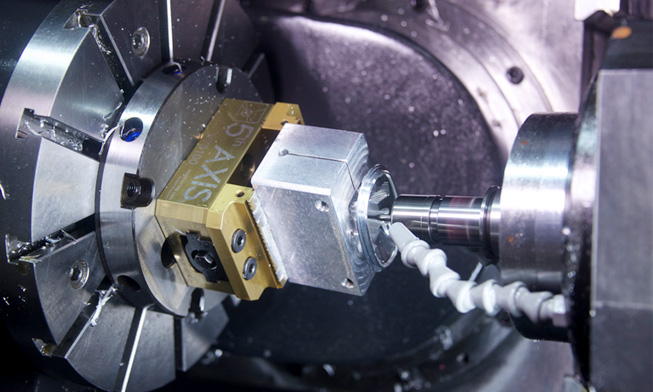 A monoblock type high rigidity, integrated bed & column
Ensuring a robust design through mechatronics simulations
An optimized casting rib structure for high rigidity
The maximization of operational efficiency by horizontally
arranging the main spindle and the table
The bed structure designed to optimize operators' accessibility
The strength and rigidity of the base body structure are a direct link to the precision of a machine tool. HYUNDAI WIA's advanced body design coupled with an integrated bed/column structure is the foundation of machining perfection.
Linear Scale (Std.)
Applied linear scale as a standard for high-precision mahining through the compensation of thermal displacement.
DDM Tilting Rotary Table
Precise 5-axis control can be done simultaneously by adopting DDM table, ensuring world-class travel speed to enhance productivity.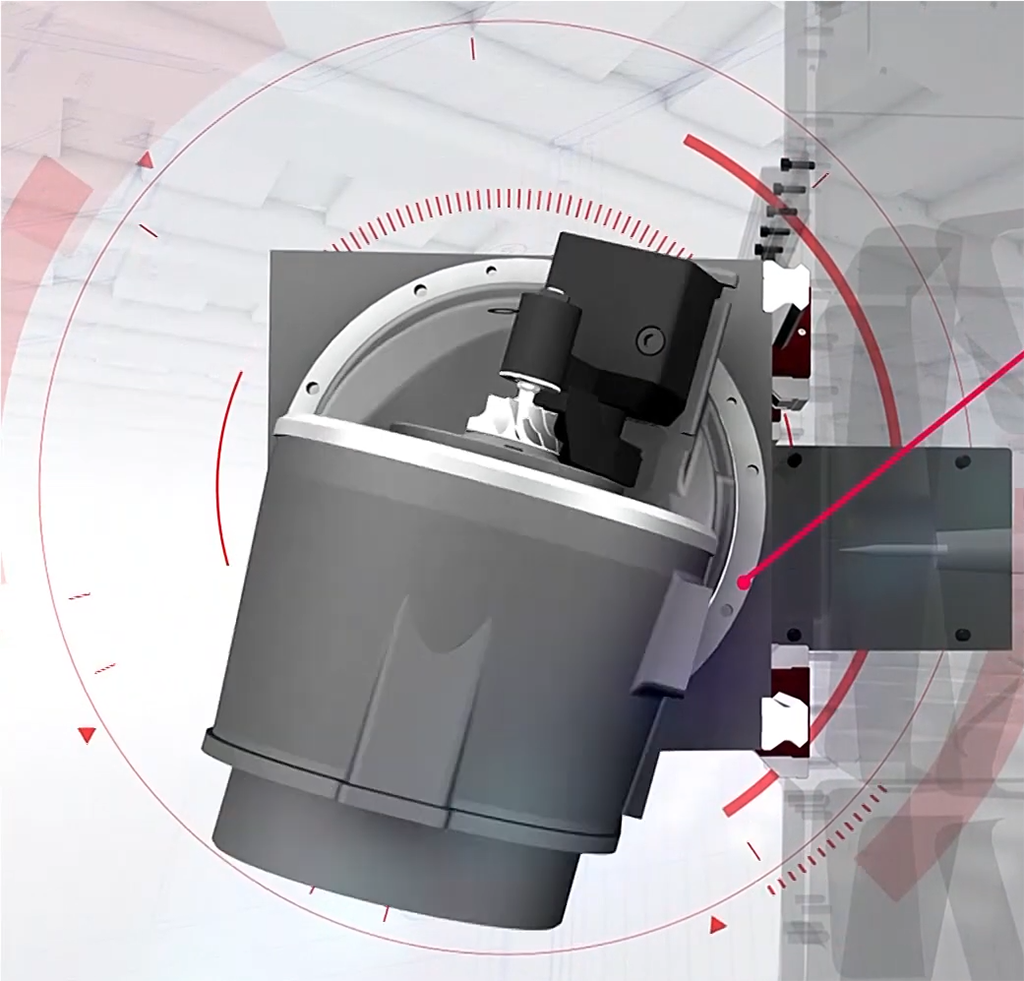 High-Speed Roller LM Guideway
Roller LM guide with high acc./deceleration and rigidity has applied to reduce non-cutting time.
High-Precision Linear Scale (Standard)
The XF2000 are equipped with linear scales on all axes providing high precision positioning accuracy and compensates for ball screw thermal displacement ensuring extremely precise machining.
In addition, the absolute type linear scale is installed in close proximity to the ball screw of each axis. During operation an added benefit is not being require to home the machine.
High-Precision Built-in Spindle
Built-In Spindle
Designed with a built-in motor structure, the spindle provides maximum acceleration and deceleration while suppressing vibration and heat that can occur during the high-speed rotation. This leads to the excellent performance for high precision machining
Spindle Cooling
Spindle temperature is controlled by the use of a spindle oil chiller. This ensures consistent spindle temperature which minimizes thermal displacement.
ATC & Tool Magazine
Automatic tool loading device with unnecessary pick-up type magazine achieves best-in-class tool change time (chip to chip) of 4.5 seconds and excellent maintainability.
Pickup-type Magazine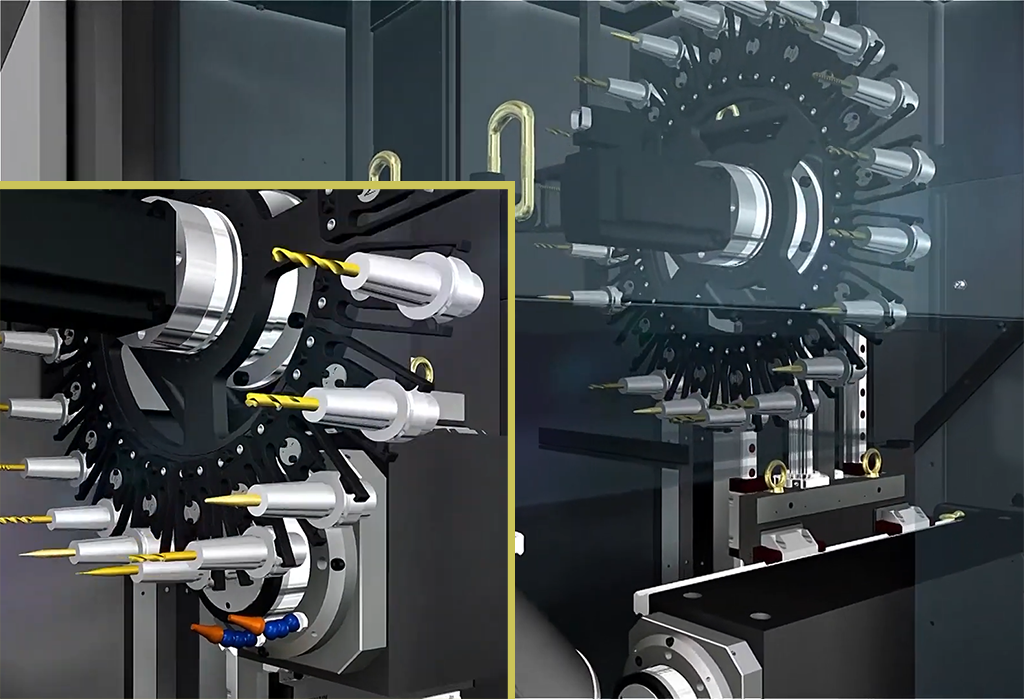 Developed as a pickup-type magazine with a relatively simple structure, automatic tool loading device is unnecessary, which is excellent in maintenance.
SIEMENS Controller
The Powerful CNC Platform for Machine Tools
SIEMENS 840D sl is the latest generation CNC controller with the capability of running up to 20 axes on a single machine.
The powerful 80-bit controller reduces processing time and increases productivity. It supports the preparation of a variety of programs and setup functions for ease of operation.
Video Linkuri
Technical Specifications XF2000
| | |
| --- | --- |
| Table Size [mm] | Ø200 |
| Max. Load Capacity [kg] | 15 |
| Spindle Driving Method | Built in |
| Spindle Taper | HSK-E40 |
| Spindle RPM [r/min] | 40,000 |
| Spindle Power [kW] | 26/19 |
| Spindle Torque [Nm] | 9.9/7.2 |
| Travel(X/Y/Z) mm | 300/300/200 |
| Rapid Feed Rate(X/Y/Z) [m/min] | 50/50/50 |
| Slide Type | ROLLER |
| No. of Tools | 20 |
| Tool Change Time (Chip To Chip) [sec] | 4.5 |
Technical Specifications XF2000i
| | |
| --- | --- |
| Table Size [mm] | Ø260 |
| Max. Load Capacity [kg] | 50 |
| Spindle Driving Method | Built in |
| Spindle Taper | HSK-E40 |
| Spindle RPM [r/min] | 24,000 |
| Spindle Power [kW] | 12.5/8 |
| Spindle Torque [Nm] | 9.3/6 |
| Travel(X/Y/Z) mm | 300/300/200 |
| Rapid Feed Rate(X/Y/Z) [m/min] | 50/50/50 |
| Slide Type | ROLLER |
| No. of Tools | 20 |
| Tool Change Time (Chip To Chip) [sec] | 4.5 |
Resources / External Links