i-CUT4000/4500
The Tapping Center I-Cut 4000, designed by HYUNDAI WIA with years of experience and state-of-the-art technology, maximizes productivity while maintaining rigidity and accuracy.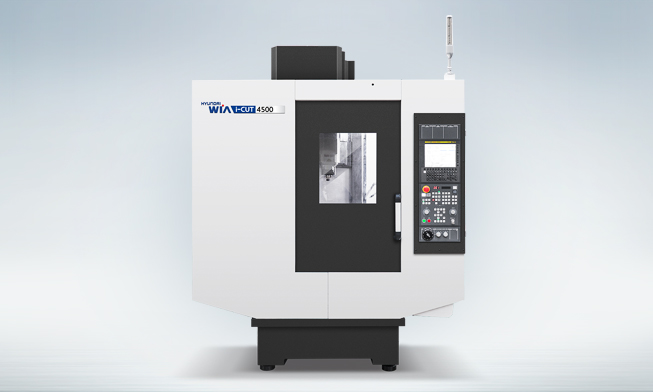 Tapping Center I-Cut 4000 series is designed by Hyundai WIA with years of experience and state-of-the-art technology, maximizing productivity while maintaining the rigidity and accuracy of processing.
Realization of high-precision machining through improvement of spindle quality
Max. 24,000r/min Direct Spindle
High performance double seal type LM guide applied
Best-in-class tool change time (C-C : 1.8 sec)
Twin arm type ATC for automation system (Option)
Shower coolant & bed coolant standard application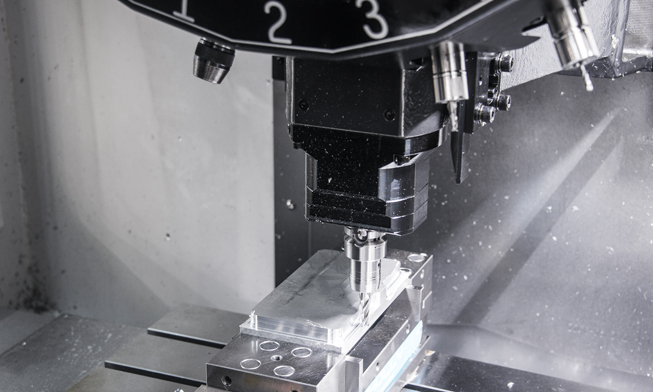 Compact Design
Weight reduction by structural analysis
Compared to the previous model, the structural rigidity has increased, while the weight of the car has been lightened simultaneously by the unique technique of Hyundai WIA.
Linear guides
High-speed fast travel is achieved by using LM (Linear Motion) linear guides. This reduces cutting time and decreases processing time for higher productivity.
The double anchored and prestressed design offers remarkable positioning and repeatability with minimal thermal increase. The ball screws are connected directly to the actuator to eliminate leaks.
High-performance Spindle
Direct Drive
The main shaft is designed with angular contact ball bearings to increase rigidity, prevent thermal displacement.
Rigid threading
The rigid threading function allows fast and accurate threading. It also improves tool accuracy and tool life.
Spindle coolant
The shaft coolant is extremely useful for drilling deep holes. It helps to increase the life of the instrument, while reducing the cycle time.
Automatic tool magazine
Magazine
Unlike the previous models that featured a 14-tool magazine, the i-CUT4000/4500 adopted a 21-tool magazine as standard to expand the
tooling range.
Servo ATC
Servo motor is applied on the ATC to reduce tool change time. Also,
accurate tool positioning control increases cutting stability
FANUC 0i Plus Series
The FANUC 0i-F Plus series CNC offers a simple, cost-optimized solution for most general processing applications.
Ready to use, it boasts state-of-the-art hardware and a complete standard software package for most turning and milling processes.
Customization features are already included and provide an easy way to create application-tailored HMI interfaces.
The 0i-F Plus series is also fully compatible with older FANUC 0 and 0i CNCs and has the same programming as more advanced FANUC controls.
The advantage is that existing programs can be used immediately and that new programs can be developed without the need for costly layoffs.
Offering the high performance of FANUC servo technology, this CNC also offers the same easy-to-use comfort across the range.
Video processing i-CUT400TD
Technical Specification i-CUT4000
Table Size[mm]
650×400
Max. Load Capacity [kg]
300
Spindle Driving Method [tip]
Direct Drive
Spindle Taper [tip]
BBT30
Spindle RPM[r/min]
12,000
Spindle Power [kW]
13/3.7
Spindle Torque [Nm]
82.7/23.5
Travel (X,Y,Z) [mm]
550/400/300
Rapid Feed Rate [m/min]
X56/Y56/Z56
Slide Type [tip]
Liniare
No. of Tools
21
Tool Change Time
(Chip To Chip) [sec]
1.8
Technical Specification i-CUT4500
Table Size [mm]
800×450
Max. Load Capacity [kg]
300
Spindle Driving Method [tip]
Direct Drive
Spindle Taper [tip]
BBT30
Spindle RPM [r/min]
12,000
Spindle Power [kW]
13/3.7
Spindle Torque [Nm]
82.7/23.5
Travel (X,Y,Z) [mm]
700/450/300
Rapid Feed Rate [m/min]
X56/Y56/Z56
Slide Type [tip]
Liniare
No. of Tools
21
Tool Change Time
(Chip To Chip) [sec]
1.8
Similar Products
Resource External Link