KH50G | KH63G
The Horizontal CNC center KH50G / 63G have movable column on the Z-axis thermo-friendly and precision and repeatability at intensive cutting speeds.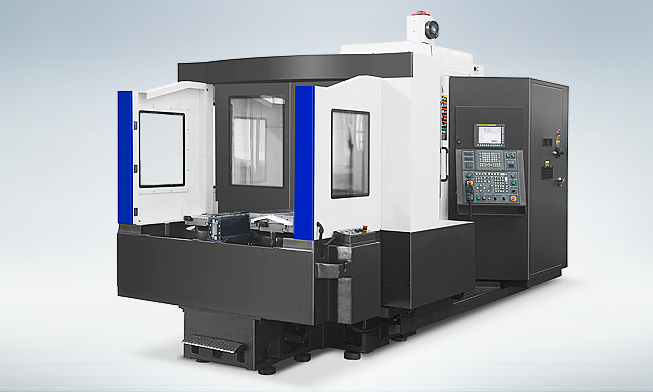 Step Gear on Horizontal CNC center KH50G / 63G Main Spindle for Heavy Duty Cutting
Standard Oil Cooling System for High Precision
Shuttle Type APC
Box Guides on All Axes for Ultra Rigidity
Air Semi-Rising Slideway on Z-axis
8-Face Contact Y-axis Guideway
Specially Designed Columns that Minimizes Thermal Displacement
Tool Magazine Capacity of up to 120 Tools (Opt.)
Structure
"T" Type Bed
The 'T' structure of the bed is designed with ample bed height and casting thickness to ensure the optimal level of rigidity.
Column Moving Structure
The Z-axis of the machine is designed with a moving column to prevent table sag. The moving column structure increases rigidity and reduces heat generation. Hence, it shows excellent performance in heavy duty cutting where accuracy and repeatability are maintained.
Guideway
KH50G/63G is designed with box guideways which show great performance in offsetting vibration. Therefore, it is possible to efficiently machine difficult to cut materials into high precision products.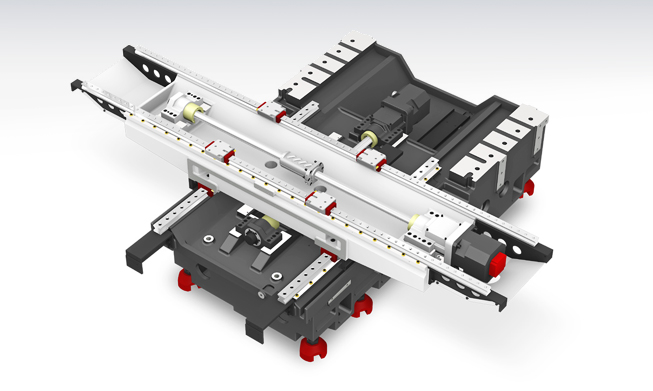 Air Semi-Rising Slide Way
By applying the air semi-rising slideways, the load on the Z-axis slideway is decreased. Therefore, positioning and repeatability accuracy can be maintained for a long time.
8-face Contact Y-axis Guideway
Spindle head contacts 8 faces of Y-axis guideway. This new method allows cutting forces generated by the spindle head to be absorbed by the Y-axis box guideways which improves heavy duty cutting ability, accuracy, and surface finish.
Spindle
2-Step Geared Spindle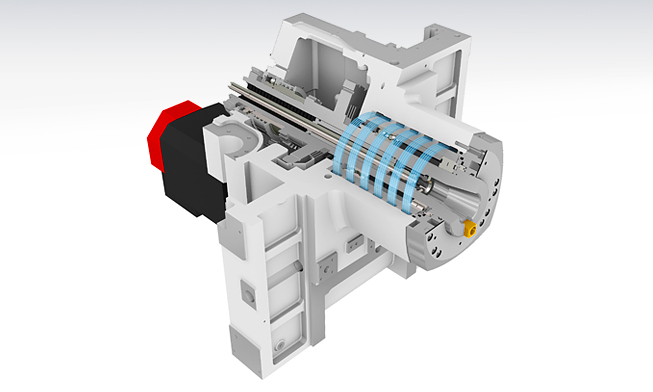 KH50G/63G is designed with a 2-step gear drive, which provides high torque at low rpm and stability at high rpm.
Spindle Cooling
The spindle cooling system minimizes thermal displacement which can happen during lengthy machining operations, and offers continued accuracy based on the thermal stability.
Through Spindle Coolant (20/30/70 bar)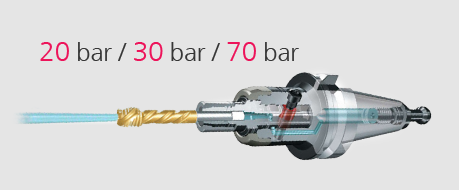 Through Spindle Coolant is exceedingly useful when drilling deep holes. It helps increase the lifetime of the tool, while decreasing cycle time.
8 Nozzles Directing Coolant
8 nozzles on the spindle improve precision by providing coolant on the machining area where direction of injection can be adjusted.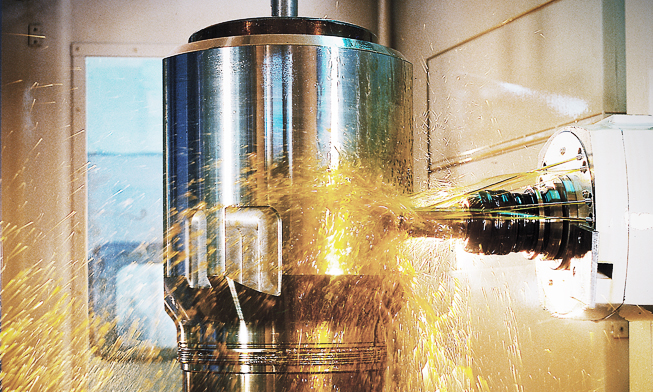 APC & PALLET
KH50G/63G is equipped with a shuttle type APC (Automatic Pallet Changer) as standard. The pallet can be rotated in the loading station for quick and easy load/unload of machined parts.
Air Clearing System
During the pallet change cycle, strong air blasts from the taper cones on the machine table helps remove chips to provide clean surface for locating the pallet. This ensures high accuracy of pallet positioning and guarantees optimum rigidity.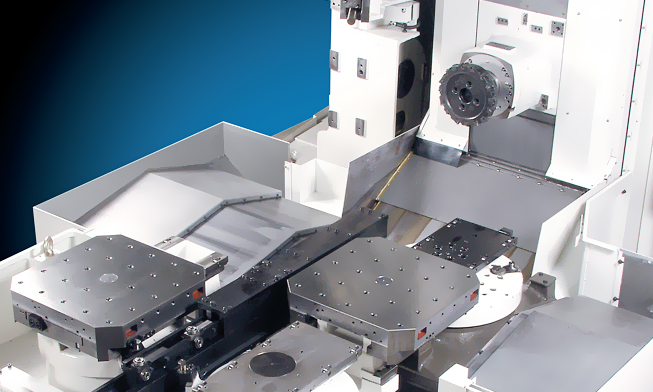 ATC& magazine
KH50G/63G offers various tool magazines which expand the range of machining. Also, fixed address tool selection method and 2 types of ATC cycles for heavy tools and standard tools increase convenience.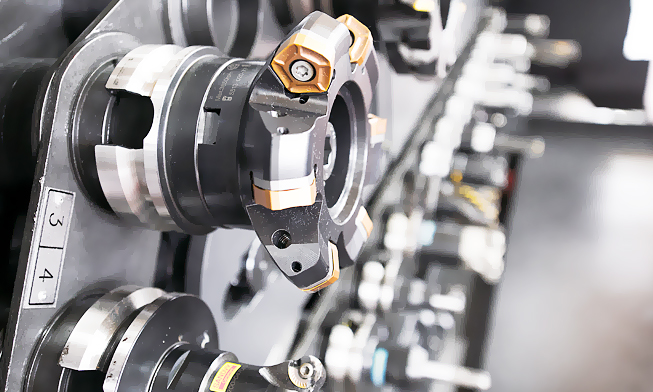 Technical Specification KH50G
Pallets Size [mm]
500×500
Max. Load Capacity [kgf]
2 – 800
Spindle Driving Method
GEAR(2STEP)
Spindle Taper
BT50
Spindle RPM [rot/min]
4,500
Spindle Power [kW]
18.5/15
Spindle Torque [Nm]
901/730
Travel (X/Y/Z) [mm]
760/705/650
Rapid Feed Rate (X/Y/Z) [m/min]
20/20/20
Slide Type
BOX
No. of Tools
40
Tool Change Time
(Chip To Chip) [sec]
11
No. of Pallets
2
APC Type
SHUTTLE
Pallet Change Time [sec]
26
Technical Specification KH63G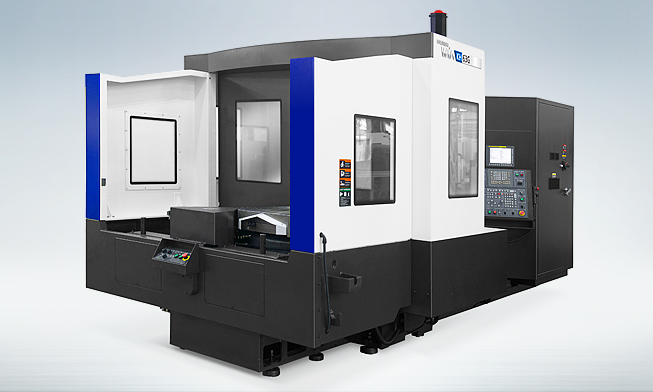 Pallets Size [mm]
630×630
Max. Load Capacity [kgf]
2 – 1,000
Spindle Driving Method
GEAR(2STEP)
Spindle Taper
BT50
Spindle RPM [rot/min]
4,500
Spindle Power [kW]
22/18.5
Spindle Torque [Nm]
1,071/901
Travel (X/Y/Z) [mm]
950/825/760
Rapid Feed Rate (X/Y/Z) [m/min]
20/20/20
Slide Type
BOX
No. of Tools
40
Tool Change Time
(Chip To Chip) [sec]
11
No. of Pallets
2
APC Type
SHUTTLE
Pallet Change Time [sec]
26
Similar Products
Resource External Links